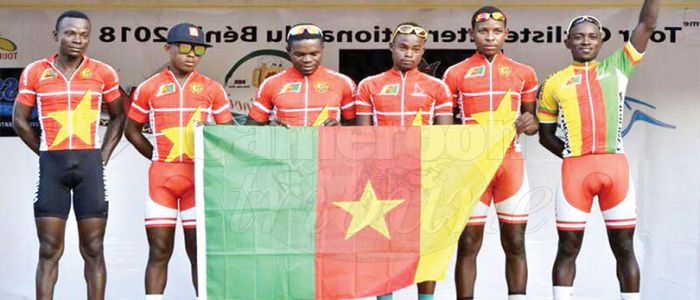 A total of 45 athletes from ten teams in Africa and Europe took part in the competition.
The 15th edition of the International Cycling tour of Benin ended in Cotonou, Benin on Sunday May 13, 2018 with a closed circuit in the city of Contonou. The competition brought together 45 cyclists from ten teams from Africa and Europe. Sunday's lap was the sixth and last race in the competition that began on May 8, 2018.
The last lap was won by Burkina Faso's Bakienga Salto. Cameroon's Sikandi Ghislain, Tekou Damien, Ngeh Martin and Ngomeni Kuissi Eric finished on the 9th, 11th and 15th and 19th positions, respectively.
At the end of the competition, Burkina Faso's Yarbanga Salifou won the yellow jersey with a performance of 15h22'08" after covering a distance of 586.7km with an average speed of 38km/ph. He was followed by his team mates who finished in the second, third, fourth sixth and seventh positions.
The first Cameroonian in the race was Sikandi Ghislain who occupied the eight position with 4'24" behind the first athlete. The second Cameroonian, Tekou Dameien occupied the 11th position 4'53" behind the first cyclist, the third Cameroonian Ngomeni Kuissi Eric finished the race 19th position with 11'57" behind the first.
Martin Ngeh was the fourth Cametroonian having a difference of 14'32" from the the winner. Kuere Nounawe, the fifth Cameroonian finished on the 33rd position with a difference of 29'56" from the yellow jersey out of the 45 athletes that took part in the race.
In the teams' classification, Cameroon occupied the third position after Burkina Faso and Nigeria. Tekou Damien won the trophy and jersey for the most combative athlete. Kuere Nounawe also won the jersey for the most combative athlete at the end of the fourth lap.
Cameroon's participation at the 15th edition of the International Cycling Tour of Benin was also preparation for the International Cycling Tour of Cameroon which takes place from May 26 to June 3, 2018.

Same category