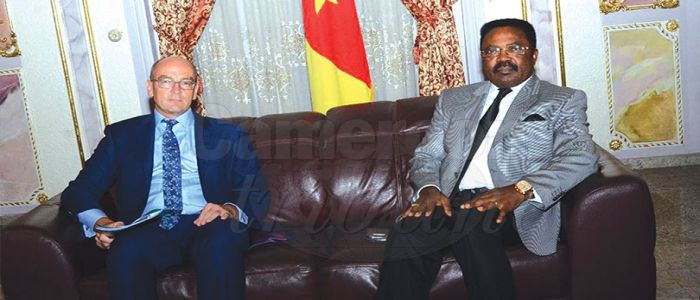 Bilateral relations between both countries were revisited in an audience granted the British High Commissioner to Cameroon on May 14, 2018 by Minister Delegate Felix Mbayu.
Cooperation ties between Cameroon and the United Kingdom of Great Britain and Northern Ireland have been examined. This was in an audience accorded by the Minister Delegate at the Ministry of External Relations in charge of Cooperation with the Commonwealth, Felix Mbayu to the British High Commissioner to Cameroon, Rowan James Laxton on May 14, 2018. Both diplomats during the audience saluted the dynamism in bilateral relations and chatted on areas of common interest.
International security and other topics of general interest pertaining to mutual relations between Cameroon and Great Britain equally came under discussions.
Speaking after the audience, Rowan James Laxton said diplomatic ties between both countries are positive with unstrained relations. He expressed his desire to see relations expand on a wider spectrum while strengthening sectors of collaboration. The British government through the High Commission has continuously provided technical assistance in improving governance in the country.
A good number of British investors are present in Cameroon, improving the business climate of the nation. On the educational landscape, several scholarships are offered to Cameroonians in varied disciplines amongst which are the Cameroon Women Scholarship and the Chevening Scholarship. Both countries promote values of human rights, gender equality and environmental protection.

Same category