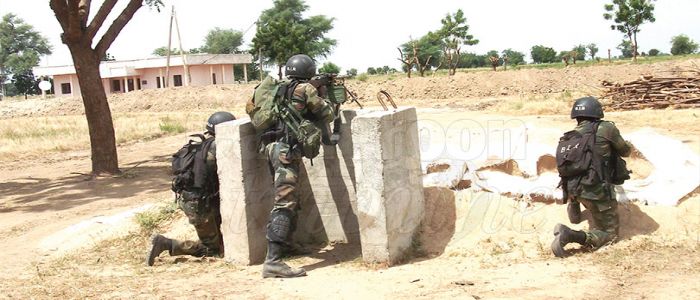 The participation of a contingent of Nigerian troops in Cameroon's 46th National Day on May 20 will be an opportunity to solidify growing and mutually-beneficial ties.
As Cameroon braces up for the 46th anniversary of a Unitary State on May 20, 2018, one of the hallmarks of the celebration in Yaounde will no doubt be the participation of a contingent of Nigerian troops. The Guards Brigade, which is the elite force that carries out national functions on behalf of the Nigerian army as well as provides security of the Presidency and the entire Federal Capital City, is the guest of honour of Cameroon for this year's feast.
Cameroon and Nigeria, two brotherly and friendly countries, share a lot in common and the upcoming celebration will obviously be an icing on the cake of the frank and win-win cooperation bolstered at the highest level by the two Heads of State.
The two countries that rose above the temptation of division and hatred in the past with border quarrels are today growing from strength to strength at both government levels and in terms of people-to-people relationship. Defence forces from the two countries have equally been working in synergy against the bestial Boko Haram insurgents to give the populations much-needed tranquillity.
From the time President Paul Biya on May 17, 2014 declared war on the sect that wreaked havoc in border villages of Nigeria and Cameroon, cooperation between the two countries, especially military, had been progressing at near geometric rate. Thanks to the cooperation, the sting of the common enemy has been reduced to sporadic attacks notably suicide bombings.
However, quite aware of the fact that Boko Haram is evidently weakened but not completely erased, there have been incessant concertations at very high levels. For instance, Presidents Paul Biya of Cameroon and Muhammadu Buhari of Nigeria met thrice between 2015 and 2016 to seek ways of surmounting security and economic challenges for the two countries and peoples to stay more fraternal and mutually-developed.
The Nigerian leader was in Cameroon from July 29-30, 2015 while his Cameroonian counterpart visited Abuja from May 3-4, 2016. Barely one week after the 2016 State visit to Nigeria, President Paul Biya was again in Nigeria (May 14) to attend the Second Regional Summit on Security in Nigeria and neighbouring countries on the invitation of his Nigerian counterpart, Muhammadu Buhari.
Talking to Cameroon Tribune in his office in Abuja on May 15, 2018, Cameroon's High Commissioner to Nigeria, Salaheddine Abbas Ibrahima, said such visits were unprecedented and signal the level of understanding between the two leaders for the good of their people.
On April 23, 2018, the Defence Chiefs of Staff of Cameroon and Nigeria, General Rene Claude Meka and General Anatomy Gabriel Olonisakin, in that order, held discussions in Yaounde on how to reinforce military cooperation between both countries and how better to strengthen the fight against Boko Haram. This was on instructions from the two Heads of State.
Results And Aspirations
According to Colonel Kuitche Roger, Defence Attaché at Cameroon's High Commission in Abuja, Nigeria, whom Cameroon Tribune met in Abuja, "It was a great pleasure for me to learn that a Nigerian contingent is going to participate in the march past in Yaounde during the 2018 National day celebration." He observed that Nigerian troop's participation besides Cameroonian forces will show the visibility of the collaboration between the two Defence forces.
Cameroonian and Nigerian defence forces, Colonel Kuitche added, have been collaborating at the multi-lateral and bilateral levels. "On the bilateral level, the two security forces have been working together for quite a long time. And the impact of such collaboration is the exchange of programmes." Many Cameroonian defence officials have graduated from the National Defence College in Nigeria, Senior Defence College and so on.
On the other side, there are Nigerians who are training in Cameroon's Defence schools. "In the long run, we hope to be able to create a mass critique of officers trained in both countries. There are equally visits to both countries. The War College of Nigeria went to Cameroon a few months back for a visit and we are expecting the Cameroon War College to be in Nigeria for a visit," he noted.
Meanwhile, Lieutenant Colonel Mukhtar Sani Daroda, Commanding Officer, 7 Guards Battalion, Guards Brigade-Nigerian Army, Team Leader Nigerian Contingent to Cameroon for May 20, 2018 is hopeful of even better days ahead.
"I can say that the Nigerian and Cameroonian military partnership has been very cordial as we have been able to carry out joint operations against a common enemy and we feel that this parade will further solidify the cooperation we have among us," he said.
Same category