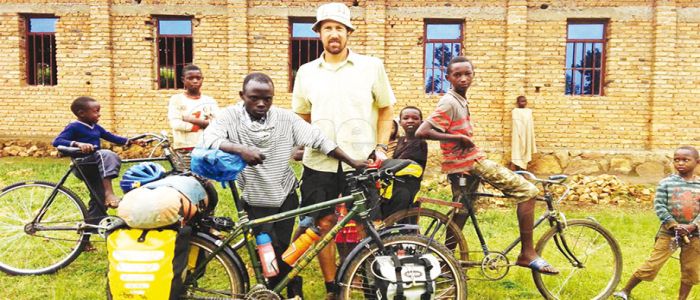 Sam Jack has covered 11, 500 km in eight months and plans to cover West and North Africa in five months.
Many people could think of traveling across Africa on a bicycle and leave it at the thought. But South African-born Sam Jack, quit his teaching job at the University of Cape Town and undertook the trip.
He saved for several years for the journey to discover the rest of Africa, experience new cultures, faces and places on the continent.
He is currently in Cameroon. It took him eight months of cycling through Botswana, Zimbabwe, Malawi, Tanzania, Burundi, Rwanda, DR Congo and the Central African Republic to get here.Traveling on bicycle is slow and gives one the possibility of seeing landscapes, cultures and interacting with people, according to Sam Jack.
"I got to Cameroon through Libongo and rode through Yokaduma, Lomie and Abong-Mbang before Yaounde. I went to Bamenda by bus with my friend Nathaniel Micklem and we went round the Ring Road on our bicycles. We went to Ndu, Oku, Kumbo, Wum, Belo and other places.
I find Cameroonians very hospitable," Sam Jack told Cameroon Tribune on May 14.He also said they stayed in churches, hospitals and traditional palaces while in the North West Region. He was amazed by the generosity of people who live below poverty line as they offered him bananas and pear.
The adventure cyclist said they both discovered the huge tourism potentials of Cameroon and are considering coming back with their families for holiday.
Nathaniel Micklem traveled by air from South Africa to Cameroon, has been away from home only for one week but is already home sick.
"I have a young family," he says. But Sam Jack still has four to five more months to go. He will travel to West Africa and to the North where he will end his adventure near the Mediterranean Sea. He is grateful to his patient wife.
Sam Jack would have spent about 10,000 USD (circa FCFA 5.4 million) by the time he completes the trip. He believes the cost would have been lesser if African countries were advanced in integration.
"Moving from one country to another should not be costly. It is not good for the tourism industry," he said, citing the examples of DR Congo, Nigeria, and Cameroon with visa fees costing 400 USD, 200 and 100 USD respectively.
Same category