Iran Nuclear Deal: World Leaders React To America's Pull-out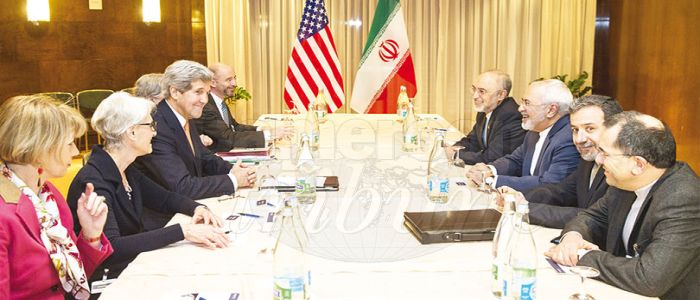 They warn that the May 21, 2018 decision puts the Middle East's security in greater jeopardy.
United States of America President Donald Trump on May 21, 2018 lived up to his 2016 campaign promise and pledge earlier this month to pull out of the 2015 nuclear deal reached by America and other stakeholders with Iran. US Secretary of State Mike Pompeo made the announcement, promising "unprecedented pressure" and the "strongest sanctions in history" on Iran.
In a swift response, Iran's Foreign Minister Javad Zarif said America was "regressing to old habits," but his country was working with other partners to the nuclear deal in order to find a solution.
The European Union, EU Foreign Policy Chief, Federica Mogherini, also criticised the US, saying Pompeo failed to show how dropping the 2015 nuclear deal would make the Middle East safer. She added that there was "no alternative" to the agreement, promising that the EU would stick by it if Iran met its commitments.
Israel praised Trump's decision to pull out of the pact, though the move was roundly criticised by fellow signatories, including France, Germany, the UK and Russia. Pompeo made it clear that he expects the backing of allies like Europe and support from Australia, Bahrain, Egypt, India, Japan, Jordan, Kuwait, Oman, Qatar, Saudi Arabia, South Korea and UAE.
On May 8, 2018 when President announced his intention to pull out of the Iran nuclear accord, world leaders reacted in similar fashion. The United Kingdom's Labour Shadow Foreign Secretary, Emily Thornberry, condemned Donald Trump's decision as "reckless, senseless and immoral."
"I believe that the decision to put the JCPOA (the Joint Comprehensive Plan of Action) at risk without any Iranian violation is a serious mistake," said former US President Barack Obama.
Under the Joint Comprehensive Plan of Action, Iran agreed to limit the size of its stockpile of enriched uranium for 15 years and the number of centrifuges installed to enrich uranium for 10 years. Enriched uranium is used to produce reactor fuel and also nuclear weapons.
Teheran also agreed to modify a heavy water facility so that it does not produce plutonium suitable for a bomb. In return, sanctions imposed by the UN, US and EU that had crippled Iran's economy were lifted. The deal was agreed between Iran and the five permanent members of the UN Security Council - the US, UK, France, China and Russia - plus Germany.
Same category