Aneva Dancesport Challenge: Groupe Focali-Focali Emerges Winners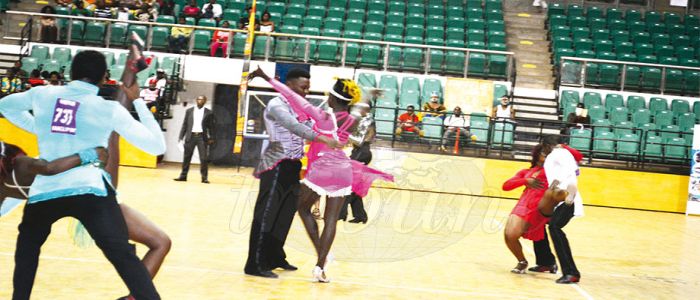 Over 200 dancers from 55 companies took part in this year's edition of the competition that held in Yaounde last weekend.
The finals of the seventh edition of the dancesport competition called ANEVA Dancesport Challenge took place at the Yaounde Multipurpose Sports Complex in Yaounde last weekend.
Organised by Aneva Dancesport with the technical support of the Cameroon Dancesport Federation and Assimilated Disciplines (FECADANSA) the competition brought together 215 dancers from 55 companies from across the country.
For two days inhabitants of Yaounde and its environs watched with enthusiasm young Cameroonians display rich talents in dancesport. The athletes competed in five disciplines notably Valse Viennois, Quick Steps, Cha Chacha, Paso Doble, Rumba Cubaine, Samba, Rock and Roll, Salsa and Lambada.
In Lambada, the couple Kamdem Valeke William and Kom Kantse Pamela from Groupe Focali-Focali was the best. In the Rock n Roll the couple Kamdem Valere William and Kom Kantse Pamela of Groupe Focali-Focali were the first and in the Salsa the same couple was equally the first.
In Rumba Cubaine, the couple Bene Wassa Didier Steve and Maleindje Pamela Linda from the Ministry of Environment and Nature Protection (MINEPED) was the best. In Paso Doble Sighe Dassi Frank Wilson and Magnerou Mfogham Esther Linda from CIMENCAM were the winners.
In Cha Chacha the couple Bene Wassam Didier and Maleindie Pamela Linda were the first. In quick Step, the couple Bindzi Joseph Baudouin and Kemegne Tatiana Judi-Gaelle from the Ministry of Tourism finished first.
In Valse Viennois, Bindzi Joseph Baudouin from the Ministry of Tourism finished first.
The ANEVA Dancesport Challenge is a dance competition that is organised among representatives of administrations, companies and decentralised territorial units.


Same category