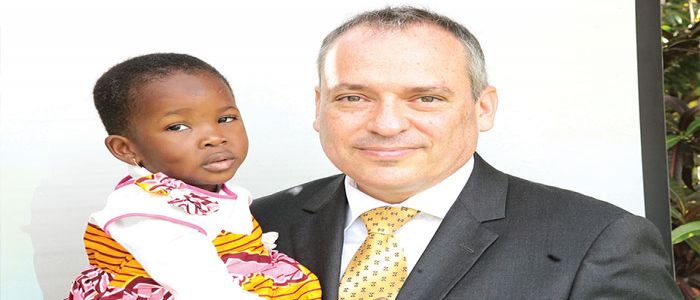 Two and a half year-old Manoel Adriana was operated in Israel on March 1, 2018, within the framework of Save A Child's Heart initiative of Israel.
Manoel Adriana, a Cameroonian baby was on March 1, 2018, operated upon in Israel for heart problems. Born at the Biyem-Assi District Hospital in October 2015, Manoel was diagnosed of a heart ailment which caused her difficulty in breathing barely two weeks after birth.
The unfortunate incident scared family members. After spending hundreds of thousands with little improvement, the baby was referred to the Mother and Child Centre of the Chantal Biya Foundation for proper medical attention.
Given good health ties that Cameroon and Israel share, the Israeli Embassy was notified of the situation by the Chantal Biya Foundation. Manoel was on that note evacuated on February 25, 2018 within the framework of Save A Child's Heart (SACH) initiative for an operation in Israel with all expenses covered.
She was accompanied by her grandmother, Petega Marie Noel. A testimony from her highlights that medical doctors in Israel worked professionally on the baby upon their arrival. "We left Cameroon on February 25 and arrived the next day. Consultations on the baby started on February 27 and she was scheduled for surgery which took place on March 1.
I had given up all hopes on her but the Almighty God and the doctors worked on her tirelessly. Manoel's system now functions normally and she is not on any drugs. We returned to the country last month," she narrated. Petega Marie Noel said Israeli doctors worked on her granddaughter without discrimination.
She expressed hope for SACH to continue on the treatment of other children facing same problems. Manoel Adriana is therefore the first Cameroonian baby to benefit from SACH surgical aid.
SACH was founded by the late Dr. Ami Cohen to save as many children as possible with heart disease from developing countries regardless of nationality, religion, race, gender or financial situation. Its mission is to improve the quality of pediatric care for children from developing countries.
To date, SACH has provided surgical aid to over 4,000 children from 50 countries in Africa, Middle East, Asia, Europe and South America.
Same category