International Missing Children's Day : When Unaccounted Kids Are Yet To Be Found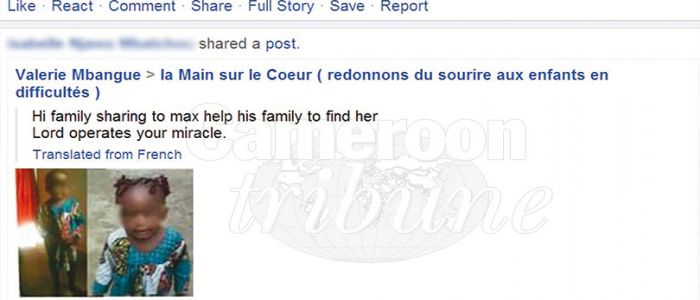 Today has been set aside to honour investigations of missing children and celebrate those who have been recovered through joint efforts.
Information of missing children are very common in the society today. Before now, many people thought it was a phenomenon recurrent in developed countries. But the negligence from some parents as well as the bad fate of certain individuals has made the incidence currently alarming, with almost daily media reports of a child missing from any of the regions in the country.
Waiver from parent, guardian or law enforcement agency giving permission to disseminate photo of a missing child is constant on social media particularly Facebook.
Within the last six months, the homepage of different Facebook users have disseminated notices of search from families who are looking for their missing children alongside their pictures. Most of the children are between the ages of 3 and 15 years.
Two months ago, one of the messages read: "Hello, it is with eyes full of tears that I ask Facebook users to publish on their pages the search notice of my little sister with names Princess E whom we have heard no news about her whereabouts for over four days now." Another message on social media from a desperate mother looking for her missing son read: "Since last night, my son has been missing. I have nothing against anyone. I have never hurt anyone and I do not know why someone will take my son so far away from me. My son's name is Z. Please son if you can listen to me, no matter where you are and with who you could be, know that I need you home."
While other messages have called for prayers on God to operate his miracle on children who have been declared missing, others have called on the public to contact them through certain telephone numbers in case they see the child they are looking for.
Such random messages on social media have yielded fruits for some families. Such is the case with the child who was missing at the Mendong neighbourhood in Yaounde as well as a missing child in Bafoussam in the West Region who was later seen in Ebolowa in the South Region.
However, for others the end story is a sad one. As the world commemorates the International Missing Children's Day today, it is an occasion for administration and individuals to encourage and honour the investigations of missing children and celebrate those who have been found.
On the build up to the occasion, many pictures of lost children are currently circulating on social media, with messages encouraging members of the public to share them to raise awareness. It should be noted that a missing child is a child who has disappeared and whose status as alive or dead cannot be confirmed as their location and fate is not known.
A person may be missing due to their own decision, accident, crime, death in a location where they cannot be found (such as at sea), or other reasons.

Same category