International Powerlifting Tournament: Cameroon Bags Five Gold Medals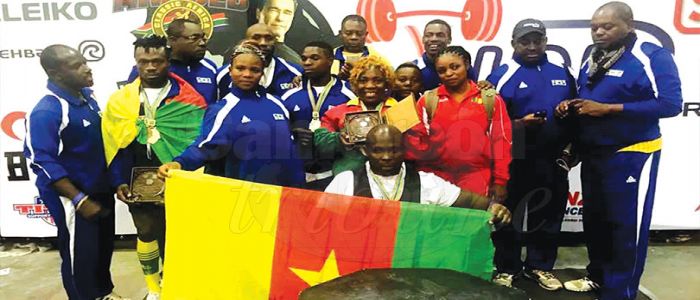 Eight athletes represented the country at the third edition of the International Powerlifting Tournament that recently ended in Johannesburg.
The national anthem of Cameroon was sung several times at the third edition of the International Powerlifting Tournament called Arnold Classic Tournament that ended on May 20, 2018 in Johannesburg, South Africa. Cameroon was represented in the competition by eight athletes. At the end of the competition, Cameroon won eight medals; five in gold medals, two silver and one bronze.
It all began with Techap Fongang who won two gold medals in the -74kgs and the -84kgs categories at the opening of the competition on Friday May 18, 2018. He was ahead of Iranians and two South African competitors.
He won the Grand Prix Arnold Classic Africa after finishing as the best athlete in the tournament. Audrey Aboume Ndeme, African champion in all categories in the women's competition won gold. On Saturday May 19, 2018 she won broke two African records in the -84 kgs, +84 kgs and the -72 kgs categories. She lifted 200kg in the leg flexion and extension and 207 kg in the deadlift competition.
In the men's -84 kgs and +84 kgs Fofo Fokem Aimerance also made Cameroon proud by winning won gold and a Grand Prix. Still in the women's competition, Salamatou Bouba begn won one silver medal in -84, +84 and the -72 kgs.
Singam Habilu won the second another silver medal for Cameroon in the -83 kgs category and Koule Victor won bronze in the -120 and +120 kgs. Apart from the medals Cameroonian athletes also won five Grand Prix awards for merit.
Team Cameroonian is alleged to have arrived in Johannesburg on Friday May 18, 2018 at 3:00 a.m. and had to begin with the weighing exercise which began at 8:00 a.m. and ended at 10:00 a.m. The athletes hardly had enough time to recover from the long journey. The Cameroonian delegation to South Africa returned home on Monday May 21, 2018 at 13:00 p.m. via Nsimalen International Airport.

Same category