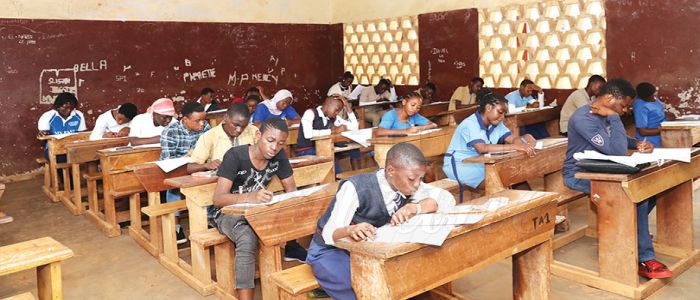 Les candidats à la session 2018 du General Certificate of Education (GCE) font face aux épreuves dudit examen depuis hier comme dans le reste du pays.
Ambiance d'examens officiels ce 28 mai au Lycée bilingue d'application de Yaoundé. Ici, 1266 élèves affrontent les épreuves du General Certificate of Education (GCE). Dans l'ensemble de l'établissement on respire la sérénité. Une atmosphère de récréation règne dans la cour du lycée.
Les élèves viennent d'achever l'épreuve d'économie, la première de cet examen. La présence de trois éléments de la police à la guérite témoigne formellement des mesures de sécurité prises pour assurer le bon déroulement des épreuves. Au provisorat, l'ambiance est studieuse. Le proviseur, Enow Mary est en séance de travail avec le chef de centre d'examen et le chargé de mission.
« Les épreuves se déroulent normalement depuis le matin. Nous n'avons enregistré aucun incident jusqu'à présent », a déclaré Enow Mary. Cette première épreuve, certains candidats, à l'instar de Kisou Stéphane Brice, l'ont trouvée abordable. « Pour un élève qui s'est bien préparé comme moi, cette épreuve n'était pas difficile. Mais pour ceux qui n'ont pas révisé leurs cours, elle pouvait sembler compliquée », a-t-il affirmé.
Dans les autres centres d'examen de Yaoundé, la même ambiance de sérénité est palpable. En dehors de quelques retards, les épreuves se déroulent normalement jusqu'ici. Quant à l'information balancée dans les réseaux sociaux faisant état de la fuite de l'épreuve d'économie composée hier elle serait erronée.
De source sûre, celle-ci n'est qu'une « fake news ». L'un des chargés de mission que nous avons approché au lycée bilingue d'application a affirmé : « L'épreuve publiée dans les réseaux sociaux est fausse. Elle est fausse dans le fond et la forme. Cette épreuve avait été administrée il y a cinq ans », a expliqué le responsable qui a sollicité l'anonymat. Au total, 129000 candidats composent le GCE sur l'ensemble du territoire national.

Same category