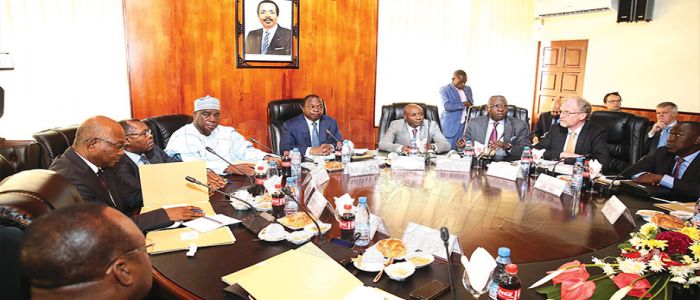 The performance of the reforms was reviewed in Yaounde May 30.
The ongoing implementation of public finance management reforms introduced in 2016 is on a good footing. This emerged from the fourth meeting of a steering committee of a platform for dialogue on public finance management held in the Ministry of Finance on May 30. Minister Louis Paul Motaze chaired the working session attended by development partners and government officials.
The Head of the European Union Delegation in Cameroon, Ambassador Hans-Peter Schadeck told reporters after the meeting that the progress made so far in the implementation of the first phase of the reforms covering 2016-2018 was satisfactory. "We examined the progress made and saw that we are on track.
There is progress particularly at the level of preparation of the national budget. For instance, the National Assembly and the Senate have been very much involved in the preparation of the budget whereas that was not the case before," he said, adding that the next phase will span across 2019 and 2021. He noted that the steering committee which meets after every six months facilitates dialogue between government and partners involved in public budget reforms and budget support.
Going by the Director General of Budget in the Ministry of Finance, Cyril Edou Alo'o, stakeholders were all satisfied with progress and contributions made. "The Ambassador was pleased with government commitment and assurances. We adopted a collaboration and partnership framework with development partners.
This includes a set of principles that would guide the collaboration as well as meeting calendars and evaluation procedures. It defines the period and structure of evaluation of performance of reforms agreed upon," he said. The budget expert also pointed out that the laid down evaluation methods fall in line with already existing systems such as the ones of the Ministry of Economy, Planning and Regional Development.
The introduction of budget restructuring was engineered in 2014 by Prime Minister Philemon Yang under whose instructions the multi-sector dialogue platform was set up to adopt an inclusive method of planning the national budget. The new planning pecked on nine priority actions involves development partners and actors of the civil society.
Same category