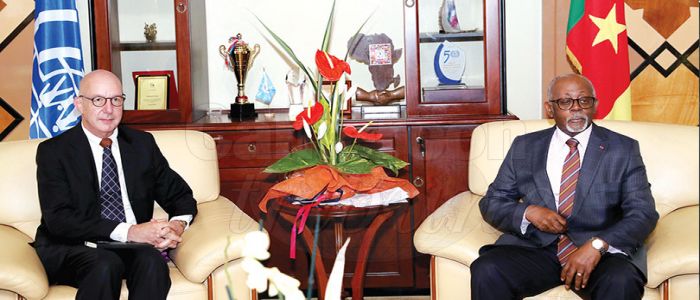 These measures are intended at reintegrating into the economy returning citizens who were facing difficult situations in foreign countries.
The Minister of External Relations, Lejeune Mbella Mbella in an audience yesterday June 5, with the Regional Director of the International Organisation for Migration (IOM) for West and Central Africa, Richard Danziger discussed actions in favour of facilitating and supporting the return of migrants from foreign countries especially those in the horn of Africa who are experiencing challenging situations.
Measures at sustaining refugees and other displaced persons with respect to the humanitarian situation around the Lake Chad Basin were equally examined.
Richard Danziger stated after the audience that they talked about migration in general including the situation of Cameroonians who have been in need of support and assistance in the Sahel of Africa.
"We have worked with the government to ensure the safe return of Cameroonians who are facing problems in Libya, Niger and other countries. We expect more to come back and we will continue to work with the government on getting their reincorporation in the society," he stated.
With regards to some of the actions adopted, he stated that efforts are made to ensure that those held in detention are released and repatriated. "We provide them with basic medical support and most often psychological support.
Once they are back, we work with them along the Ministry of Youth Affairs and Civic Education in putting together a business plan. We don't give cash but rather work with them on supporting initiatives that will sustain them in the long term," he explained.

Same category