West Africa, Sahel Zone: Agriculture Ministers Discuss Food, Nutrition Crises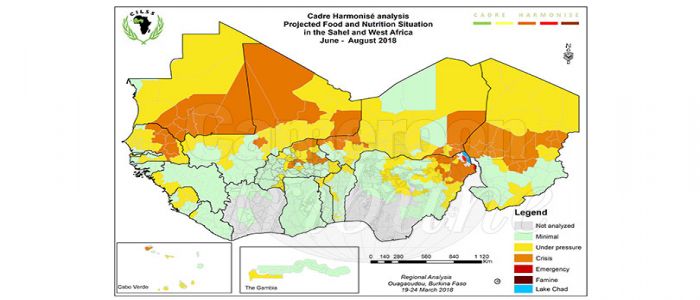 The June 7, 2018 meeting in Burkina Faso sought ways and means of tackling the current emergency that threatens 10 million lives.
Given recurrent food shortages in West Africa and the Sahel in recent years, the Economic Community of West African States, ECOWAS Commission this week assembled agricultural experts, technical and financial partners in the Burkina Faso capital, Ouagadougou, to discuss the current crisis that threatens 10 million lives. The experts met from June 4-5, 2018, followed on June 7, 2018 by an emergency gathering of Ministers of Agriculture.
The high-level meeting reviewed and adopted operating modalities and operationalization of the ECOWAS Regional Food Security Reserve. According to Pierre Emmanuel Ouédraogo, Director of Cabinet to Burkina Faso's Minister of Agriculture, his country has set up 5,297 tonnes of cereal reserves in Dédougou.
Hélène Bali, Secretary General, Ministry of Agriculture, Livestock and Fisheries of Togo, challenged the ECOWAS Commission to ensure the quick takeoff of the Regional Fund for Agriculture and Food. European partners have already contributed 56 million Euros (36.7 billion FCFA) to the fund, while member countries are supposed to chip in 25 million US dollars (13.9 billion FCFA)
As at now, the regional reserve has a stock of only 25,740 tonnes of cereals in Burkina Faso, Ghana, Mali, Niger and Nigeria. According to a survey carried out last April by the Food Crisis Prevention Network, RPCA, about 7.1 million people need urgent food and nutrition assistance, of which 3.7 million are in north-eastern Nigeria.
These are mostly pastoralists and agro-pastoralists, particularly women and children. Apart from worsening livelihoods and food prices, the situation is exacerbated by persistent insecurity in Lake Chad Basin, the Liptako-Gourma region and in central Mali.
Same category