Liquefied Natural Gas Production: Cameroon Puts Second Project On Track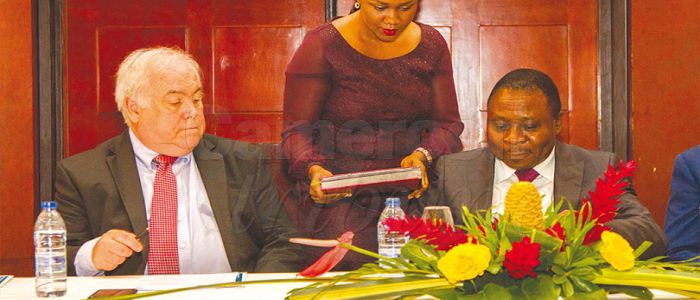 Government and New Age have signed a gas convention agreement covering the Etinde field project which will be the largest private investment in the country in the last five years.
The government of Cameroon and privatelyowned British company – New African Global Energy (New Age) LNG (Liquefied Natural Gas) – have reached a gas convention agreement, paving the way for the development of the Etinde field, offshore Limbe in the South West Region.
The gas convention was signed by both parties in Yaounde, Friday June 8, 2018. While Gaston Eloundou Essomba, Minister of Water Resources and Energy, signed for the government of Cameroon, Dave Loran, Executive Vice President of Technical at New Age LNG, penned for his company whose Cameroonian subsidiary CMLNG will carry out the operations.
Etinde field development will be the second Cameroon LNG project, after a first-of-its-kind LNG plant developed by Golar LNG off the coast of Kribi went fully operational this year. Following the signing of the gas convention which confirms and codifies the State's commitment to the project, CMLNG will now take the project to the next stage, officials said.
According to the Executive Vice President of Technical at New Age LNG, construction of an integrated floating liquefied natural gas vessel will begin next year in shipyards in China. The vessels expected to be built in the next four years will be deployed as the central processing facility of the Etinde field.
"The FLNG facility will be a new vessel with flexibility, high availability design that is capable of receiving associated gas, then processing, storing and offloading over 30,000 barrels per day of condensate," Dave Loran said.
He i...
Same category