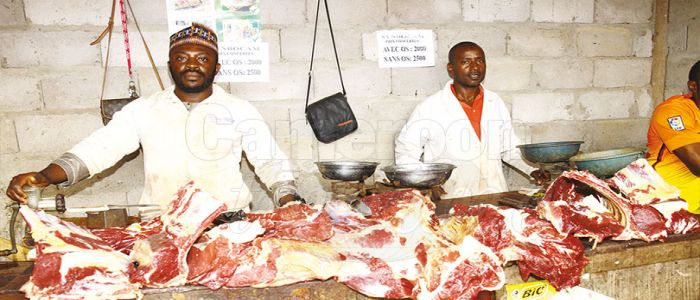 An allegation that the recent death of two dogs in Yaounde revealed the sale of poisonous meat in the city has proven to be untrue.
Yaounde city dwellers may have to simply discard information circulating on social media, warning against the consumption of beef and steak or 'soya' in the city.
The false alarm is based on claims that two dogs died in the Kondengui neighbourhood on May 12 after its owner fed them poisoned beef bought from the Marche Mvog-Mbi.
Vendors of meat both in cold stores and wheelbarrows parked on both sides of the street on June 12 were unanimous that the dogs might have been deliberately poisoned by their owner's neighbour or inadvertently by the person who fed them.
"At times people buy foodstuff and fail to take proper care of them. The dog owner might have kept the meat near or on a toxic substance at home or even in her shopping bag," said Hassan, owner of Boucherie Des Amis cold store in the said market.
Pointing to a greenish spot on a hunk of beef in front of his cold store, he noted that the Yaounde IV Sub-divisional Delegate for Livestock, Fisheries and Animal Industries inspects beef sold in the said market on a daily basis to ensure that it has been okayed by veterinary officials who put stamps on them before they are taken out of the slaughter house.
Other meat vendors in the market testified to the regular checks, adding that agents from the Ministry of Trade equally take turns to verify the quality and prices of beef sold therein.
Meanwhile, claims that beef vendors are using formalin (a colourless solution of formaldehyde in water, used chiefly as a preservative for biological specimens) to preserve meat has equally been debunked by experts in the livestock ministry.
Word on the street is that flies do not chase meat preserved with formalin; but all meat vendors we visited at the Marche Mvog-Mbi yesterday had flies around them.
Same category