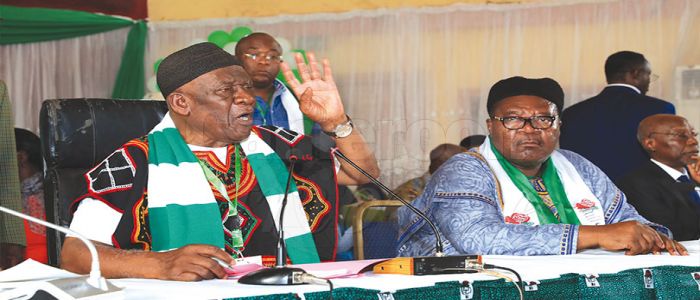 Re-examining preparatory measures ahead of upcoming elections in the country and the Anglophone situation topped the agenda of the NEC meeting last week-end.
Meeting in Yaounde on June 9, 2018, members of the National Executive Committee of the Social Democratic Front (SDF) party revisited preparatory strategies towards upcoming elections in the country. Municipal, Legislative and Presidential elections are due to take place this year. Discussions on the way forward with regards to the socio-political tension in the North West and South West Regions equally came under scrutiny.
Deliberations at the NEC meeting attended by party shadow cabinet ministers, Members of Parliament and Mayors were chaired by the National Chairman, John Fru Ndi. In his opening remark, the party Chaiman enjoined every member to actively encourage the population in registering and participating in the electoral process.
He re-echoed their objective of regaining lost councils and constituencies once any elections are convened by the President of the Republic. He bemoaned the current situation rocking the North West and South West Regions, calling on government to promptly address the situation before it degenerates into something uglier.
The party's presidential candidate, Hon Joshua Osih, challenged the elections management body, Elections Cameroon (ELECAM) to follow citizens into the bushes and get them registered.
"It is their civic responsibility to participate in every election that...
Same category