Decentralisation: PM Yang Explains Functioning, Perspectives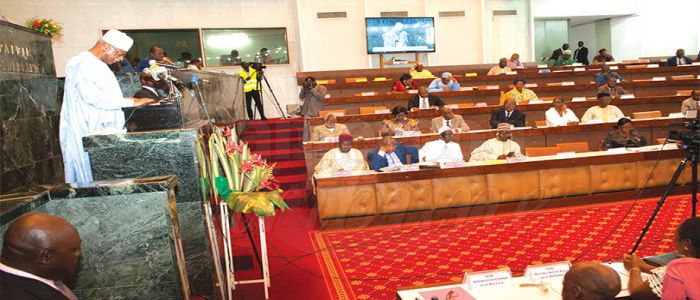 The Prime Minister answered questions asked by three Members of the National Assembly during a question time plenary sitting of the House on June 13, 2018.
The Prime Minister, Head of Government, Philemon Yang during a question time plenary sitting of the National Assembly on June 13, 2018 chaired by the House Speaker, Hon. Cavaye Yeguie Djibril answered questions ranging from the revenue from forest exploitation, functioning and perspectives of the decentralisation process in Cameroon and measures taken by government to tackle the scourge of the abusive sale and consumption of alcoholic drinks.
He answered Hon. Hermine Patricia Tomaino Ndam Njoya's questions on the overbearing nature of administrative authorities in the decentralisation process and why the Regions have not yet gone operation despite the fact that it is enshrined in the 1996 Constitution. Philemon Yang quoting Article 55 (2) of the Constitution said, "Regional and local authorities shall be public law corporate bodies.
They shall have administrative and financial autonomy in the management of regional and local interests. They shall be freely administered by councils elected under conditions laid down by law." Concerning the involvement of the administrative authorities, he quoted paragraph 3 of Article 55 of the Constitution which provides that, "The State shall exercise supervisory powers over regional and local authorities, under conditions laid down by law."
He said the creation of the Ministry of Decentralisation and Local Development on March 2, 2018 was prove of the President of the Republic's commitment to accelerate the decentralisation process. He said that during the Council of Ministers Meeting on March 15, 2018, President Paul Biya instructed that he was, "expecting detailed proposals and a timeline for fast-tracking the ongoing decentralisation process."
Answering Hon. Robert Bapooh Lipot's question decrying the fact that alcoholic drinks are now accessible to all strata of the society including students and pupils with disastrous social and health consequences, PM Yang said the fight against alcoholism was the concern of all. He cited measures government has taken to regulate the consumption, sales and advertisement of alcoholic drinks.
He also cited legislation governing forest exploitation to answer the question on forest revenue asked by Hon. Paul Danata on behalf of Hon Brigitte Mebande.

Same category