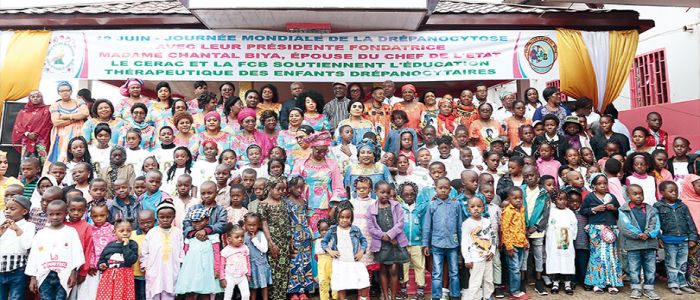 This was during an event to donate gifts to patients at the Chantal Biya Foundation yesterday in Yaounde.
"Sickle cell today is no longer a rare disease but friends to sickle cell patients such as the First Lady of Cameroon, Chantal Biya, are rare." It is with such words of appreciation towards Mrs Chantal Biya that the association of parents with children suffering from sickle cell at the Chantal Biya Foundation (FCB) received a delegation from the Circle of Friends of Cameroon (CERAC) with special gifts from their Founding President, Chantal Biya as the international community commemorated the 10th World Sickle Cell Day, yesterday June 19, 2018. It was a get-together that permitted CERAC members and other actors to sensitize the population on the genetic disease which can be avoided.
The Head of the CERAC delegation, Aissa Motaze, who is also the Secretary General of CERAC, expressed the love, care and concern the First Lady has for those affected by the sickle cell disease. She implored the necessity for the population to create a better life for those affected by which they can be able to do lots of things in a better way.
While explaining that sickle cell is a lifespan ailment, Aissa Motaze said it is vital to educate people on the disease particularly those who are already touched on how to have a healthy life. Going beyond emotions, Aissa Motaze on behalf of CERAC, called on couples to know their electrophoresis hemoglobin test before making plans for procreation.
This is in a bid to have healthy babies. Noting that it was an obligation for CERAC and its Founding President to assist those in need, the Secretary General of CERAC, symbolically handed gifts to sickle cell children who are being taken care of at the FCB.
The head of the sickle cell unit at the FCB, Dr Anastasia Alima lauded the good gesture from CERAC which comes to add to the efforts of the Foundation in caring for people with sickle cell who have constant health problems due to red blood cell disorders.
Dr Alima said this could lead to anemia and eventually death in most cases. While explaining that many people are still ignorant about the disease, a pediatrician at FCB, Dr Rose Ngoh eps Etambat, called on parents to take their children to the hospital when sick for the FCB has doctors 24/24 to provide care to sick children especially those suffering from sickle cell.
While children suffering from sickle cell expressed gratitude to their benefactor through songs and sketches, parents of these children particularly thanked the First Lady whose motherly care and love to the children has gone beyond what words can't express.

Same category