Double Reception For Presidential Couple In China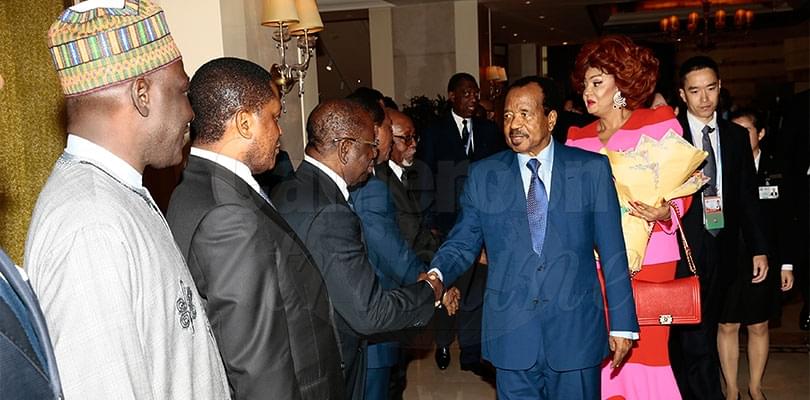 Upon arrival in Beijing, China, Paul and Chantal Biya were warmly welcomed by Chinese and Cameroon dignitaries.
Beijing, Friday 31st August, 2018. It is exactly 12 noon, when President Paul Biya and First Lady Chantal Biya, touched down at the Beijing International Airport, to a warm welcome from an official of the Beijing municipality, who was accompanied by his wife, in accordance with the exigencies of Chinese protocol.
Also, on hand to welcome the Cameroonian leader were the Ambassador of China to Cameroon, Wang Yingwu as well as Cameroon's Ambassador to China, Martin Mpana accompanied by his wife. The Presidential Couple received bouquets of flower from two children, as a detachment of the Chinese military Guard of Honour saluted their arrival into the Eastern Empire, for this year's summit of the "Forum on China-Africa Cooperation".
This diplomatic ballad at the airport lasted for about 30 minutes, and the presidential convoy departed for the St. Regis Hotel, where Paul and Chantal will be lodging during this visit to the People's Republic of China. With the arrival of Cameroon's First Couple at the hotel premises, the enthusiastic crowd of Cameroonians that had gathered to give their leader a befitting welcome erupted into elation with songs of joy and praise.
The hotel dignitaries also reserved a special reception for President Paul Biya and wife. As they alighted from the Presidential limousine, a bundle of red rose flowers was handed to the First Lady by Carol Wei, one of the hotel staff. Following this, the First Couple went off in a moment of communion and fraternisation with the crowd of joyous Cameroonians.
To meet the high number of delegations arriving for the summit, the host government has put in place stringent security measures, restricting access to areas where personalities are lodged. However, given the intense pressure from Cameroonians living in China to meet the First Couple, the Chinese consented to the presence of a privileged few to welcome Paul and Chantal Biya at the St. Regis Hotel.
As early as two hours before the arrival of the Presidential Couple at the hotel, these happy few, amongst whom were students, business people, national and international workers as well locally-based militants of the Cameroon ...
Same category