Sino-Cameroon Ties: Key Agreements Signed In Beijing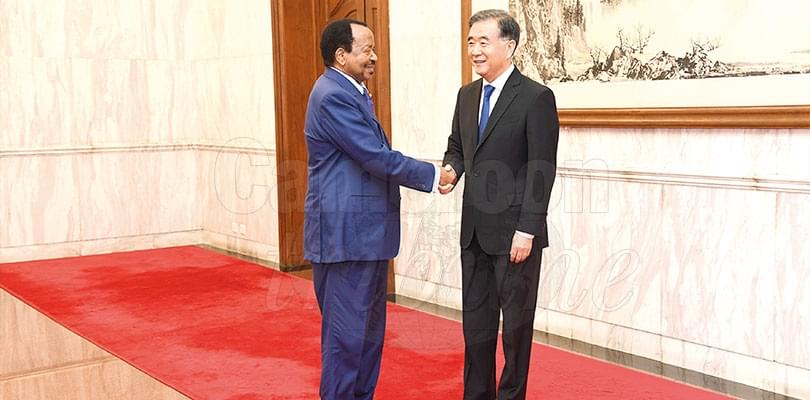 Two major accords were confirmed between China and Cameroon after a working session in China between Presidents Paul Biya and Xi Jinping on Friday 31 August, 2018.
The arrival of President Paul Biya and Wife, Chantal in the Chinese capital, Beijing on Friday 31 August, 2018 was immediately followed by an audience with President Xi Jinping which ended with the signing of two agreements.
A Memorandum of Understanding (MoU) on the joint construction of Africa- China's "Belt and Road Initiative" which is in its fifth year now and an accord on the technical assistance by China to enable Cameroon improve services at the Gynaecological Hospital in Yaounde as well as the hospitals in Buea and Mbalmayo.
The Minister of External Relations, Lejeune Mbella Mbella and Alamine Ousmane Mey of the Economy, Planning and Regional Development signed for Cameroon while their counterparts did same in the presence of both Presidents Paul Biya and Xi Jinping.
Apart from the two accords, the Chinese leader equally announced that his country was going to help Cameroon in whatever way possible to construct the Edea-Kribi Motorway, the completion of the Douala-Yaounde and Yaounde- Nsimalen Motorways as well support efforts by Cameroon to maintain peace and stability.
These are all projects that have already received much Chinese support and the meeting that President Paul Biya and his entourage had with President Xi Jinping on Friday was therefore to consolidate already existing ties through development initiatives that have taken off already. In a declaration at the end of the audience, President Paul Biya appreciated the growing level of cooperation between both countries and expressed the determination to push forward with their shared visions.
The FOCAC has provided an important opportunity for joint development of African countries and China, President Biya said adding that Cameroon hopes to work with China to promote...
Same category