Measures To Foster Sino-Cameroon Relations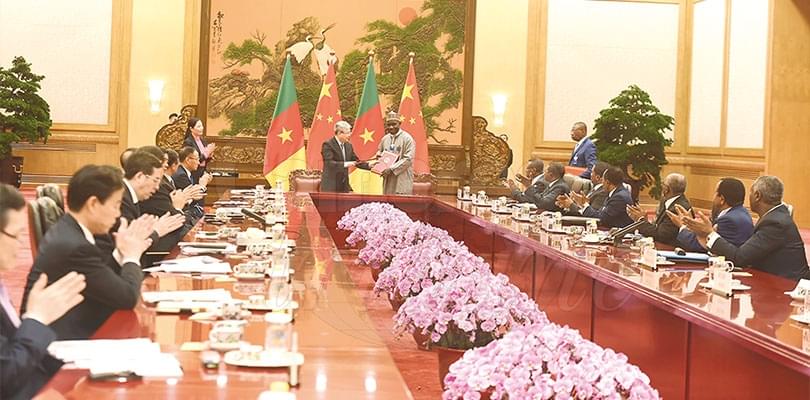 Discussions between President Paul Biya and the Senate President, Wang Yang centred on efforts to ensure mutual development in China and Cameroon.
The presidential convoy that brought Mr Biya and his entourage to meet Mr Wang Yang, President of the National Committee of the Consultative Political Conference of the People of China arrived at the ceremonial ground by 5:30 Beijing time on Friday 31 August, 2018.
Mr Wang who was acting on behalf of the Chinese Head of State was already in front of his office red carpet waiting for the august guest. Accompanied by his official delegation to China for the FOCAC, President Paul Biya and his host immediately had a brief working session before moving for dinner at the adjacent hall of the Diayutei, the official appellation of the reception venue.
Taking the floor as soon as they took their seats, Mr Wang Yang wished a warm welcome to the Cameroonian leader and his entourage. Nothing that Mr Biya is a well-respected African leader, the Senate President said he knew the Head of State already had fruitful discussions with the Chinese President adding that the working session was therefore only a logical continuation of measures to enhance Sino-Cameroon ties.
The Chinese statesman also noted that the FOCAC was out to strengthen existing ties between China and Africa in their win-win cooperation framework. In response, President Paul Biya expressed deep appreciations at the kind words from Mr Wang Yang saying such show of respect to him and his entourage was a mark of confidence and deepening of friendships between the people of Cameroon and China.
He said for long China and Cameroon have fostered rich and beneficial relations and his constant presence in China was to show how much importance he attaches to such fruitful bilateral ties. Talking about his discussions with President Xi Jinping, the Cameroonian leader said they agreed on the values of peace, security and the need to reinforce their mutual cooperation ties.
Once both officials were satisfied with the level of their discussions, they moved to the dinner hall where carefully set dishes were already waiting for them. Accompanied by their delegations, both leaders facing each other at table continued discussions on other niceties and official business between China and Cameroon behind closed doors.
Same category