Mother-to-Child Health: Prioritising High Level  Medical Care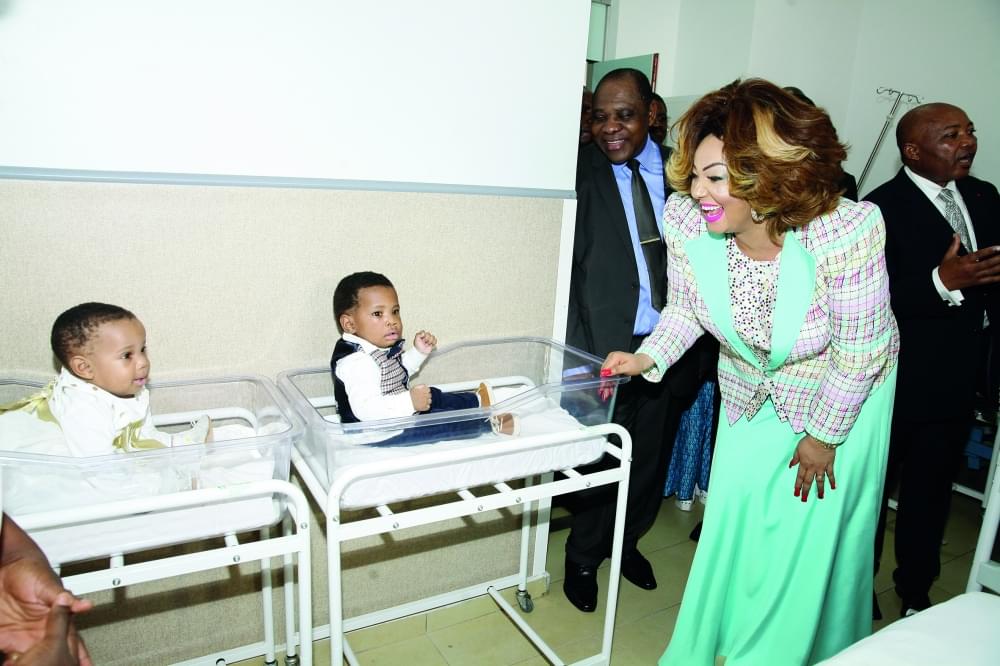 Several moves by the First Lady centre on carrying out research activities in terms of endoscopy and human reproduction, risk pregnancy management and improving the situation of people living with HIV.
Facilitating access to advanced medical services, supporting major research projects and programmes as well as helping women in the face of various pathologies that overwhelm them by providing techniques at maintaining the chain of life are in summary the focal points of the health activities of the First Lady of Cameroon, Chantal Biya.
Her several institutions such as the Endoscopic Surgery and Human Reproduction Research and Application Centre (CHRACERH), the African Synergy Against AIDS and Suffering, the Chantal Biya International Reference Centre for Research on HIV/AIDS Prevention and Management (CIRCB), and the Chantal Biya Foundation are some testimonies of her devoted efforts geared at improving the health rate of the country especially to the women.
The different health establishments have over the years recorded remarkable progress ranging from reducing infant mortality, improving research results, curbing mother-to-child disease transmission and stabilising the conditions of those living with HIV. CHRACERH focuses on carrying out research activities in terms of endoscopy and human reproduction and provide high level health care in the following areas: endoscopic surgery (surgical laparoscopy and hysteroscopy); human reproduction, including medically assisted procreation IVF (In Vitro Fertilisation), ICSI (intra-cytoplasmic sperm injection), antenatal diagnosis and very high risk pregnancy management. Besides sensitisation and the aforementioned services, the control mechanisms.
Barely two years into existence, some citizens who have used the services of the hospital attest its human effective methods, medically- assisted procreation techniques and the nature of the cost-effective surgeries. CHRACERH in general constitutes an offer of healthcare which could be considered an extension of the activities carried out at the Mother and Child Centre of the Chantal Biya Foundation.
For CIRCB, they have made major steps in the research for a potential vaccine and results that support the centre's ideas to move to a clinical trial.
On July 6, 2017 during the 6th Scientific Council of the Institution, the President of the Council, Prof Carlo-Federico Perno who doubles as Chair of Virology in the University of Rome Tor Vergata, Italy, while evaluating research activities of the outfit during the first half of the year said work at the centre is improving withy several new projects in progress.
CIRCB Laboratories Coordinator, Prof Judith Torimori said they concentrate on looking at risk factors that could favour the transmission of HIV from mother-to-child, improving the management of people living with HIV in terms of studying the rate of drug resistance in those who have not been on the drug.
Same category