Presidential Election: Governors To Implement Special Security Measures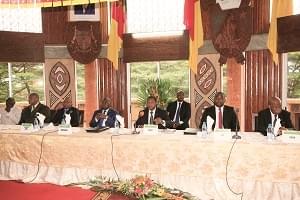 The 10 Regional Governors of Cameroon are meeting in Yaounde to get directives on necessary measures to ensure a secured environment for hitch-free election.
"The Head of State, His Excellency Paul Biya, architect of Cameroon's democracy and champion of political 'fair play', urges me to instruct you Mr Regional Governors, to ensure the security of all candidates of the presidential election, especially those that will be going to the North West and South West Regions."
This was one of the key statements of the Minister of Territorial Administration, Paul Atanga Nji as he chaired the opening ceremony of the first conference of Regional Governors for 2018 at the Yaounde City Council premises on September 10, 2018.
The theme of the conference that seeks to find appropriate solutions to the challenges of the time which is the October 7, 2018 presidential election is, "Administrative authorities and the securing of the electoral process." He used the opportunity to invite the candidates to make known their programmes of field visits to Governors, Senior Divisional Officers and Divisional Officers.
To the people of the socio-political crises-ridden North West and South West Regions, Atanga Nji said exceptional security measures have been prescribed by the Head of State for the upcoming election and the current school year in all the 360 Subdivisions of the country.
With regard to relations with Elections Cameroon (ELECAM), the Minister quoted Section 43 paragraph 7 of the Electoral Code which provides that, "the administration brings its collaboration and support to Elections Cameroon within the framework of executing the mission assigned it."
It is on the basis of the law that he transmitted the instructions of the Head of State that, "Regional Governors and all administrative authorities give all necessary support to Elections Cameroon for a harmonious and successful organisation of the October 7 presidential election."
Defence and security forces, he said, also need to work in synergy with administrative authorities to secure electoral materials as well as ELECAM. To make things clear, the Minister recalled to all political stakeholders that the Ministry of Territorial Administration is the supervisory authority of political parties, religious bodies, traditional authorities, associations and Non-governmental Organisations. As such, they have exemplary behaviour and use measured words during the entire electoral process.
Governors have the duty to ensure that these structures respect the legal instruments in place. The Governors would be enlightened on securing the electoral environment in presentations given by the Secretary of State in the Ministry of Defence in charge of the National Gendarmerie and the Delegate General for National Security. The Minister of Decentralisation and Local Development also has a presentation on, "the strides recorded in the decentralisation process in the country".
Same category