Handball Cameroon Cup: FAP, Dynamic Bokito, Winners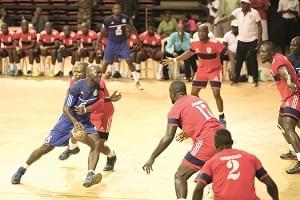 The final of 2018 Cup of Cameroon took place at the Yaounde Multipurpose Sports Complex on Sunday, September 9, 2018.
FAP Handball cup of Cameroon (men) and Dynamic of Bokito (women) are the winners of the 2018 edition of the handball Cup of Cameroon. This was the outcome of the final that took place at the Yaounde Multipurpose Sports Complex on Sunday, September 9, 2018. Organised by the Cameroon Handball Federation (FECAHAND), the competition brought together the best four teams in the country.
The Cameroon Cup final was a remake of last year's competition. In the men's final, the Armed Forces and Police team (FAP), clashed with arch rivals of the Ministry of Housing and Urban Development (MINUH) Handball Club of Yaounde, in an epic encounter that could only be compared to an international competition following the quality of ball movement by the two teams.
The first half of the game was though with no side dominating giving the potentials of the players. MINUH and FAP ran neck-to-neck as no side could make a difference in the first half. At half time both teams separated on an 8-7 score margin in favour of FAP. The second half saw domination by FAP with a highly technical play style. Bindzi Yannick, Ondoa Ambassa Martin Luther, Mezimes Frank Hervé and the others came up stronger with powerful strikes and swift and accurate passes.
MINUH on their part fought hard with strikers like Fokou Jackson and others but they could not stand the wrath of FAP. Efforts by MINUH to reduce scores were futile. FAP carried the day beating MINUH 19-14. They have therefore retained the trophy they won last year. In the women's competition, Dynamic of Bokito outplayed FAP Handball Club of Yaounde 25-22 to lift the trophy for the first time. Prizes were awarded to some players who distinguished themselves in the competition.
The trophy for the best player went to Ondoa Ambassa of FAP. Mossy Solle of Dynamic of Bokito got the trophy for the best women player. The trophy for the best player in the men's competition went to Foncho Isaac of FAP Handball Club of Yaounde.
The President of FECAHAND Raymond Mbita, expressed satisfaction with the performance of the players. He said the quality of play was good but much still needs to be done. The 2018 handball play-offs have been scheduled for September 19-22, 2018 in Yaounde.
Same category