Electoral Materials: Dispatching To Regions Accelerates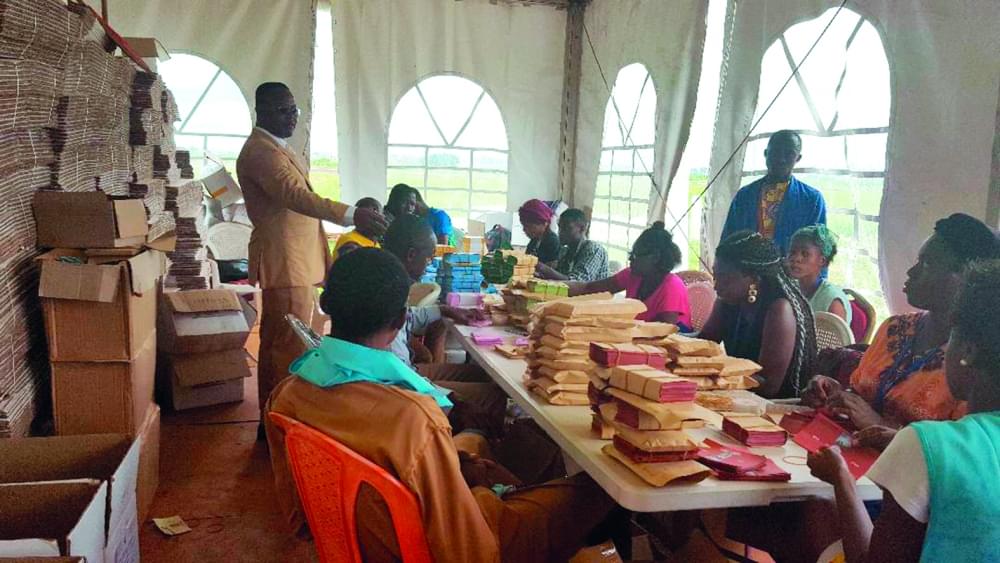 The last set of materials being dispatched are ballot papers and envelops.
On Tuesday, September 11, 2018, there was a truck loaded with electoral materials at the Yaounde 101 Military Airbase bound for the East Region. On each carton was written Presidential election of October 7, 2018, the name of the Region, Division, Council area, name of the polling station, number of registered voters in the polling station, number of envelops and ballot papers.
Elections Cameroon (ELECAM) officials in charge of receiving the materials, packaging and dispatching to the various regions did not want to be named but said the ballot papers and envelops were the last materials to the sent to the field. They said all the materials were already on the field ahead of the October 7, 2018 presidential election.
To deliver the materials on time, over 800 people had been recruited to carry out the various tasks at the Yaounde 101 Military Airbase where the ballot papers and campaign materials printed by the Cameroon News and Publishing Corporation (SOPECAM) and the different types of envelops printed by the National Printing Press have been assembled.
Other materials such as the electoral kits, polling booths, waste paper bags, indelible ink, materials for lighting such as kerosene lamps that were stocked at the airbase had already been dispatched to the field. In three of the five canopies put up at the airbase for the electoral materials, there was anthill movement as the workers counted the ballot papers, parcelled them per candidate in envelops and packed in cartons. In some of the canopies both the packaging of ballot papers and ballot envelops were taking place simultaneously.
Once these items were ready in the cartons, other members of the team took the relay by sealing the cartons and parking them in two of the canopies reserved for the purpose. Close sources said this was just a stage in the process because the cartons have to be taken to warehouse where they are thoroughly checked before being dispatched to the field.
Officials of ELECAM and workers in charge of packaging and dispatching the electoral materials on August 30, 2018 received a greater impetus and the need to accelerate work when the Chairperson of the Electoral Board of ELECAM, Enow Abrams Egbe, accompanied by some Electoral Board members and the Director General of Elections, Erik Essoussè paid an inspection visit to the airbase.
During the visit, the head of the Logistics, Transport and Dispatching sector of the Airbase, Dipita Jean Lucien did not only take the ELECAM team to all the localities where the materials were stocked but more importantly explained the procedures. Materials found at the Airbase by then included electoral kits, polling booths, waste paper bags, ballot and campaign materials, envelops and badges, among others.
Same category