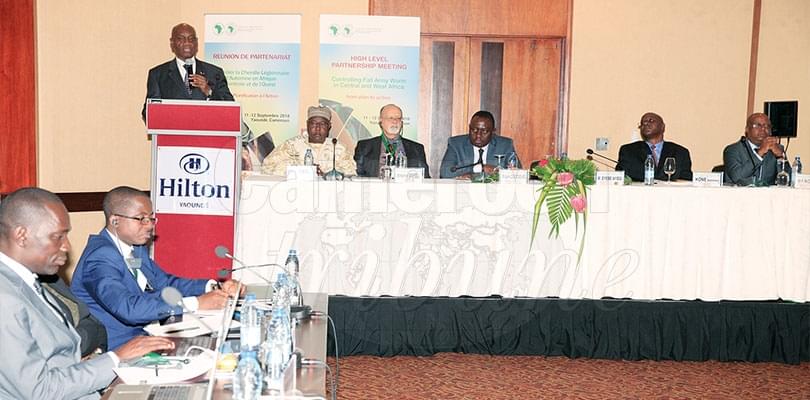 A high level meeting for controlling Fall Army Worm in Central and West Africa is ongoing in Yaounde.
The African Development Bank is pushing for a regional approach to the fight against the Fall Army Worm that is threatening to cost the African continent losses estimated at between US$2.48 billion (FCFA 1.4 trillion) and US$6.187 billion (FCFA 3.5trillion) in five years.
As part of its drive to garner global support to the fight against the pest, the Bank has organised a high level partnership meeting in Yaounde for controlling the pest in Central and West Africa.
The two-day meeting opened on September 11 by Cameroon's Minister of Agriculture and Rural Development, Henri Eyebe Ayissi, brought together researchers and representatives of public and private institutions from the two regions of the continent that are currently being threatened by the worms. The FAW is an insect that is native to tropical and subtropical regions of the Americas.
At its larvae stage it can cause significant damage to crops. It prefers maize but can feed on more than 80 other crops including rice, sorghum, millet, sugarcane, vegetables and cotton. It was first detected in Central and West Africa in 2016 and has spread to Southern Africa.
Experts say with the current rate of its spread due to its high migration capacity, it has become a threat to food security of over 300 million people in Sub-Saharan Africa.
Minister Eyebe Ayissi disclosed during Tuesday's meeting that in Cameroon the main crops threatened by the FAW are maize as well as sorghum and millet which are staple foods for 25 per cent of the country's population living in the northern regions. Countries like DR Congo, Ghana, Nigeria and Benin are among the most affected in West and Central Africa.
Benin's Minister of Agriculture, Gaston Dossouhoui said despite measures taken to prevent the spread of the FAW in his country, they lost closed to 30, 000 hectares of maize to the pest in 2017. He shared the same opinion with his Cameroonian counterpart on the necessity for a joint action to combat the pest.
Same category