Kofi Annan Obsequies: World Leaders Pay Tribute To Departed Icon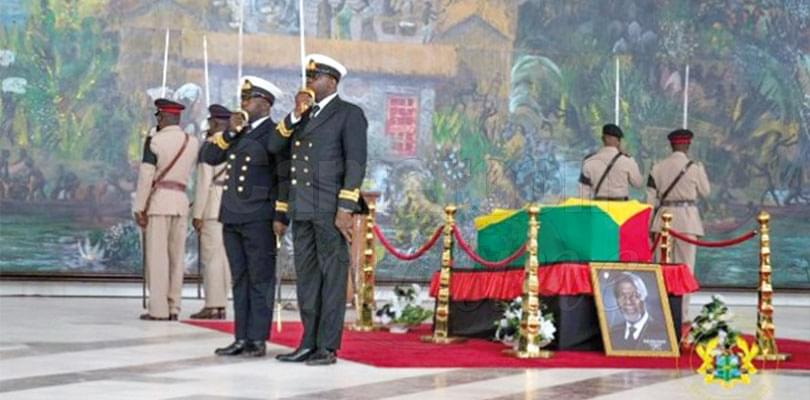 The Ghanaian-born diplomat who died last month at the age of 80 was given a state funeral on September 13, 2018 by his home country.
Who is who in diplomacy, international politics and royalty was present in the Ghanaian capital, Accra, on Thursday, September 13, 2018 for the State funeral of former United Nations Secretary General, Kofi Atta Annan. He passed away after a short illness on August 18, 2018 at the age of 80 in his home in Switzerland.
The ceremony at the Accra International Conference Centre marked the end of three days of national mourning for the accomplished diplomat. Agency reports said the obsequies were attended by current UN Secretary General, Antonio Guterres and the leaders of Côte d'Ivoire, Liberia, Namibia, Ethiopia, Niger and Zimbabwe.
Former leaders from Germany, Finland, Switzerland and Mauritius, amongst others, were also present for the landmark ceremony. Kenyan opposition leader, Raila Odinga and Princess Beatrix, the former Queen of The Netherlands, were also present.
Ghana's President Nana Akufo-Addo said Annan "brought renown" to the country, describing him as "one of the most illustrious people of this generation." The BBC said the Ghanaian leader also portrayed Annan as "a charming, cosmopolitan, confidence-builder, elegant, eloquent, gentle-mannered, modest, polyglot, proud African, peacemaker, and quintessential diplomat." Ordinary Ghanaians and dignitaries paid their respects to Annan since his body was returned from Geneva on September 10, 2018.
Thousands of people filed past the coffin, which was draped in the red, green and gold national flag and guarded by the military in ceremonial uniform. The body was later buried in a private ceremony with full military honours and a 17-gun salute at a new Armed Forces cemetery in Accra.
He is survived by his wife, Nane Maria, children and grandchildren. Kofi Annan, who led the UN from 1997 to 2006, was the first from Sub- Saharan Africa to do so. Egyptian-born Boutros Boutros Ghali was the very first African to hold the UN Secretary General position for one term from 1992-1996.
Born in Kumasi, the capital of Ghana's Ashanti region, Annan devoted four decades of his working life to the UN, and was known for bringing quiet charisma to the role. He was proudly credited for negotiating a peaceful end to the territorial dispute over the Bakassi Peninsular between Cameroon and Nigeria.
The territory has since has been ceded to Cameroon, thanks to Annan's tireless efforts – sequel to the 2002 International Court of Justice ruling.
Same category