Sanaga Water Project: Work Progresses On The Field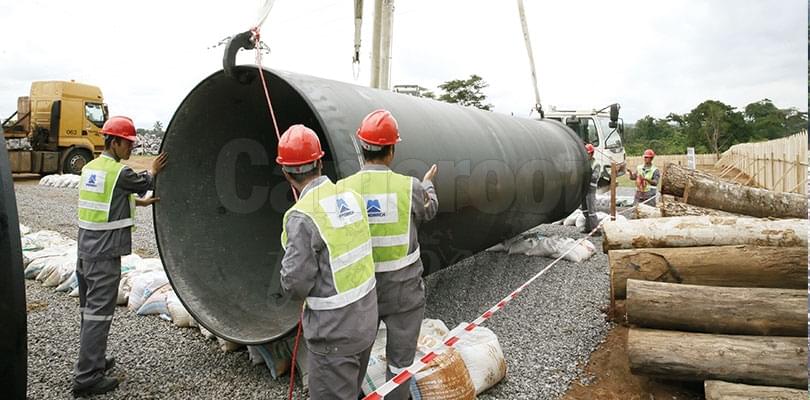 The project targets to provide daily between 300,000 and 400,000 cubic metres of water in Yaounde and its environs.
The Potable Water Supply Project in the city of Yaounde and its environs from the Sanaga River (PAEPYS) when realized will be a veritable salvation to water supply difficulties in the capital city, Yaounde and its environs. Being another fruit of the China-Cameroon cooperation, it is one of the ambitions emergence projects government has launched estimated to cost FCFA 399 billion.
The contractual deadlines for the project is three years. The project is designed to produce 300,000m3 of water per day, expandable to 400,000m3 per day and government says its implementation will solve the problem of insufficient potable water supply in Yaounde. China Eximbank and Sinomach are the main partners of Cameroon in the implementation of the project.
It is co-financed by the People's Republic of China (85 per cent) and the Republic of Cameroon (15 per cent). Information contained in the press kit produced when President Paul Biya visited China in March 22-23, 2018 disclosed that on April 30, 2014 the Head of State, Paul Biya signed a decree authorising the Minister of the Economy, Planning and Regional Development (MINEPAT) to sign with the Eximbank of China a loan agreement in the amount of US $678.3 million (approximately FCFA 339 billion), for the partial financing of this project.
The information further indicate that the realisation of the project by Sinomach is in progress since January 2017. "The first equipment, in particular the pipes, were received in October 2017 and forwarded to the storage sites of the project in Nkometou," the information disclosed.
The Minister of Water and Energy, Gaston Eloundou Essomba paid a working visit to the project site in May 2018 and evaluate...
Same category