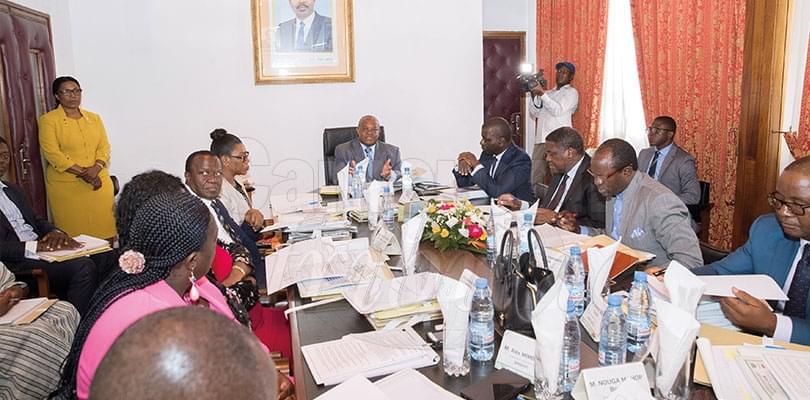 The 32nd extraordinary Board of Directors meeting which held yesterday also congratulated the staff for the work done so far in the electoral process.
The Board of Directors for the Cameroon News and Publishing Corporation, SOPECAM, held its 32nd extraordinary meeting yesterday, September 17, 2018 during which the board adopted a resolution establishing an internal commission for the award of Public Contracts. The over four-hours session was chaired by the Board Chairman, Joseph LE.
Speaking to the press, Joseph LE said "we have put in place structures to manage contracts between SOPECAM and its clients. This is because the law has given the Board of Directors of SOPECAM the power to put in place such structures so that public contracts should be carried out smoothly".
As such, the board members meticulously worked on the execution of public contracts in a bid to ensure that there is transparency, rigour and accountability in the process without any problem.
While reiterating that the major focus of the extraordinary session was the procedure in executing public contracts, the Board Chairman, Joseph LE also noted that it is a domain that is very delicate and the Board needed to be sure that everything in that area will be carried out hitchfree.
He however explained that there are many organs that need to be put in place as far as the execution of public contracts are concerned at SOPECAM. The current session has begun the process and Joseph LE noted that other structures will be put in place in subsequent Board meetings. The meeting was also an occasion for the Board members to congratulate the General Manager and the entire staff for the work done so far in the electoral process.
"The electoral process is still ongoing and so far, we think SOPECAM is doing a good job", Joseph LE noted. The entire SOPCEAM community was encouraged to continue its job until the end of the electoral process.
"It is important to underline that the presidential election is very important and the highest rendezvous in the electoral domain and everybody has to be careful in whatever he/she is called to do", Joseph LE accentuated .
The Board of Directors also observed a minute of silence for Professor Leopold Donfack Sokeng, who was Charge de Mission at the Prime Minister's office and also board member of SOPCEAM who passed on last August.
Same category