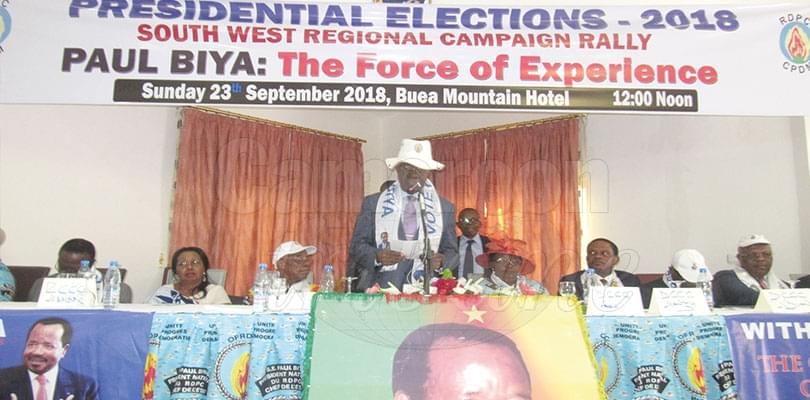 The canvass for votes in favour of the CPDM candidate began at Regional level yesterday.
Former Prime Minister and current Bilingualism and Multiculturalism Commission chair, Peter Mafany Musonge, has launched the CPDM campaigns for 7 October Presidential election in Buea for the entire South West Region. Present at the launch, Sunday, 23 September, 2018, were Divisional campaign team leaders for the six administrative Divisions of the Region notably, Honourable Emilia Lifaka for Fako, Paul Tasong for Lebialem, Itoe Benjamin for Meme, Ngolle Ngolle Elvis for Kupe Muanenguba, Victor Arrey Mengot for Manyu and Dion Ngute for Ndian.
Members of Government from the South West were present including Nalova Lyonga who is Minister for Secondary Education. The venue for the launch at Mountain Hotel provided a serene atmosphere for the various speeches that presented candidate Paul Biya as the best with a baggage of experience, exposure and acumen. The CPDM campaign leader for the South West Region, Mafany Musonge, prescribed a door-to-door, electronic and neighbour-to-neighbour campaigns, which would avoid violence and unnecessary friction among the population.
The various speakers urged voters of the South West Region to ensure an overwhelming majority for the CPDM candidate. They said everyone elsewhere was voting President Paul Biya and let the South West not remain alone behind the trail. The campaigners listed out the various achievements made in the South West under President Paul Biya in the social, sporting and economic domains. They emphasised that only an experienced President can best handle any current difficulty in Cameroon.
On the other hand, there has been no major outing for the rest of the eight candidates yet in the South West Region and their presence is still to be felt even through posters. The streets of Buea are still mirroring the CPDM candidate, Paul Biya's effigy and slogans beaming the usual confidence. After the Buea launch, campaigns are expected to extend to the various Divisions during the week.