Joshua Osih "For A Better Cameroon"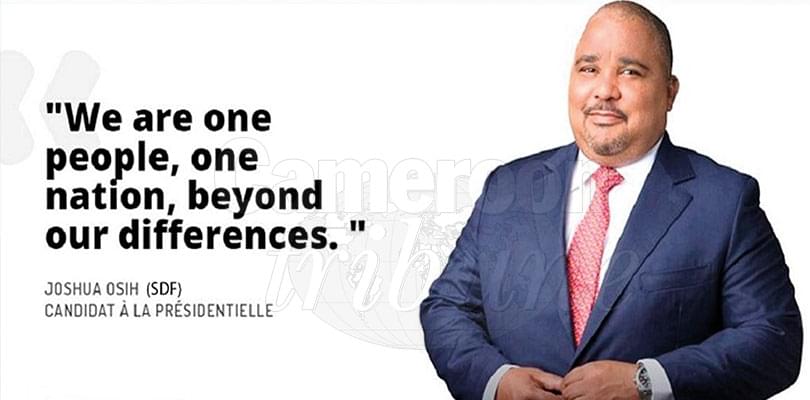 The candidate of the Social Democratic Front (SDF) is effectively present on the field and through social media.
Before officially launching campaign for the October 7, 2018 presidential election in Douala on September 22, 2018, Joshua Osih, candidate of the leading opposition party, Social Democratic Front (SDF) has become a household name in political cycles. T
his is because after the SDF designated him as the party's flagbearer in the presidential election, the perfectly bilingual Joshua Osih went into the media world to use its wide audience, viewers and readers to exhibit his political agenda for Cameroon. He is therefore very present in twitter and face book where every step of his pre-campaign and now campaign move is made known to the whole world.
The message he carries along is that of change summarised in the slogan, "Together for a better Cameroon." He manifesto is clearly displayed on his twitter page. Joshua Osih intends to realise his dream of "For a better Cameroon" through six key areas broken down into 24 strong measures.
He is promising work and education without discrimination, reinvention of a fatherland that guarantees justice and freedom for all, stimulation of economic growth put at the service of Cameroonians.
His better Cameroon is also intended to be achieved by boosting investment through construction of necessary infrastructure and equipment, building another Cameroon in harmony with the country's cultural diversity, performance in sports and digital revolution that will make Cameroon an integral part of the global village.