Saudi Arabia Fetes 88 Years Of Nationhood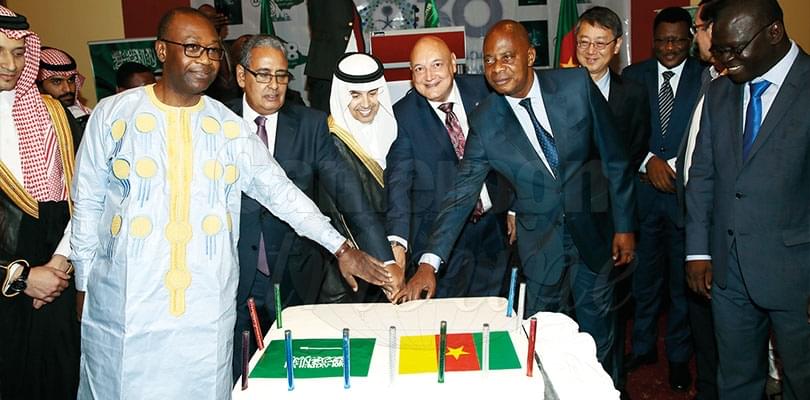 The National Day was celebrated in Yaounde on September 23, 2018.
The Embassy of the Kingdom of Saudi Arabia in Cameroon on September 23, 2018 in Yaounde celebrated the 88th anniversary of its National Day in the presence of Achille Bassileken III, the Permanent Secretary in the Ministry of External Relations, MINREX, who represented the government. Addressing guests, Ambassador Mohammed Bin Suliman Almussher recalled that Saudi Arabia has undergone tremendous changes with the view of becoming emergent by 2030.
This is based on the three main pillars of achieving a dynamic society, prosperous economy and an ambitious nation, with the goal of boosting the kingdom's international standing. Each year, he noted, Saudi Arabia receives an increasing number of Moslem pilgrims from all over the world. More than 2.3 million pilgrims took part in this year's Hajj without hitches because the government invested enormous human, financial and material resources for the success of the event, he explained.
The Ambassador felicitated the Servant of the Two Holy Mosques, King Abdul Aziz Bin Abdul Rahman Al Saud and Crown Prince Mohammed Bin Salman Bin Abdul Aziz, for the attention accorded to pilgrims. He also congratulated President Paul Biya for providing for Cameroonian pilgrims, and commended the level of collaboration between the National Hajj Commission and Saudi authorities.
He said mutual respect and non-interference in the internal affairs of other countries, the respect of laws, international norms and Islamic values, were cornerstones of Saudi Arabia's foreign policy. "Saudi Arabia respects its international and regional commitments in terms of peacekeeping, security, stability and in the fight against terrorism in all its forms in collaboration with friendly countries," the Ambassador underscored. However, Saudi Arabia is one of the countries most affected by terrorism.
About 200 ballistic missiles have been fired into the country by Yemen-based Houthi militia, resulting in the death of 112 people, including civilians, citizens and foreigners, he disclosed.
On the other hand, the Kingdom of Saudi Arabia has been enjoying good relations with Cameroon for more than 50 years. "The result has been tremendous progress in political, economic, social, cultural and other bilateral and multilateral cooperation areas.
Relations are set to grow in the near future following the will and instructions of leaders of both countries," he announced. Meanwhile, work is over on the new Saudi Embassy in Yaounde (which comprises a Chancellery, Ambassador's residence and lodging for staff).
"This is evidence of how much importance Saudi Arabia accords to relations with Cameroon," the Ambassador noted. "The 88th Saudi National Day coincides with the start of electioneering for Cameroon's presidential vote on October 7, 2018. We hope that polling will pass off peacefully for the country to continue its smooth march towards emergence."
De la meme catégorie