International Criminal Court: Gbagbo, Blé Goudé Counsel Demand Acquittal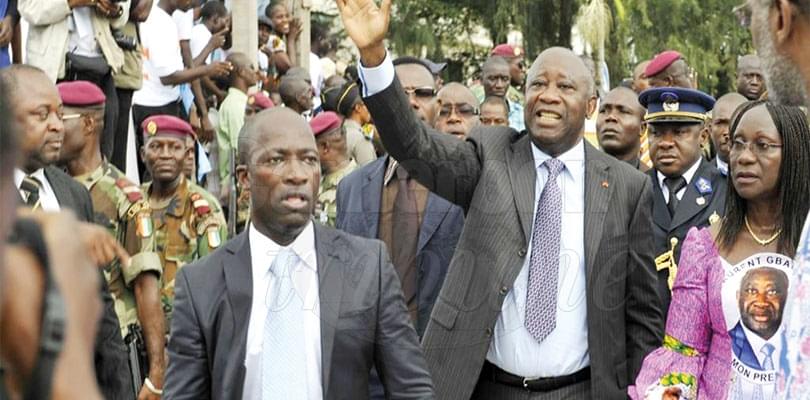 They say after more than two years of trial, the prosecution has failed to prove its case against the former Ivorian President and cabinet minister.
It is yet a long way from denouement, but lawyers for the former President of Côte d'Ivoire, Laurent Gbagbo, and his ex-minister, Charles Blé Goudé, are confident that the case against them at the International Criminal Court, ICC, The Hague, in The Netherlands, will be dismissed. However, sources close to the tribunal say it might take months before the ICC rules on the request, agency reports said. Buoyed by the impressive presence of supporters, Laurent Gbagbo and Charles Blé Goudé stood in the dock on Monday, October 1, 2018, probably praying in their hearts that their legal travails will soon end.
This, while lawyers made the application for their acquittal, arguing that the two have spent more than seven years in ICC detention and their trials have been dragging on for two years without the prosecution being able to prove its case beyond reasonable doubt. Despite 82 prosecution witnesses testifying, thousands of documents of evidence and hundreds of hours of video tendered.
The counsel therefore demanded "a full dismissal and acquittal on all charges" and the immediate release of the accused, news agencies said. Gbagbo, 73, the first-ever ex-Head of State to be handed over to the ICC, faces four counts of crimes against humanity for his role in a wave of post-electoral violence eight years ago. The election saw Alassane Dramane Ouattara come to power.
Defence lawyers also want the release of Charles Blé Goudé, 46, Gbagbo's right-hand man, former cabinet minister and leader of the "Young Patriots" group. He is blamed for the murder and rape of hundreds of people in a bid to keep Gbagbo in power, the BBC reported. "We are confident that President Laurent Gbagbo will be acquitted, released and will be able to return to his country," said Justin Koua, the youth chairman of a coalition of political parties and civil society groups.
According to him, Gbagbo is today suffering the consequences of "injustice." In a statement before the court sitting on Monday, lawyers for Côte d'Ivoire dismissed the move, saying it was a "bluff" to ask for acquittal before the trial was completed and defence lawyers heard, Radio France International, RFI said.
Same category