South West: Local Actors Drilled On Co-Ownership Of Building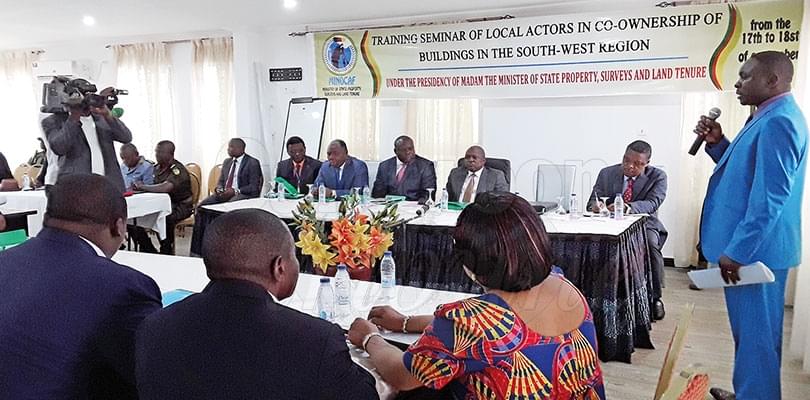 The two-day seminar that brought together real estate dealers, surveyors, architects etc. was chaired by Governor Bernard Okalia Biliai
Officials of the Ministry of State Property, Survey and Land Tenure (MINDCAF) have indicated that towns in Cameroon are expanding only vertically and not horizontally. That if the trend is not checked, it will result to urbanisation problems with many lacking decent lodging.
To avert this, Shu-Azieh Cornelius, Technical Adviser No 2 of MINDCAF explained that there are real estate dealers who are into mass construction of houses which individuals can buy apartments in these large compounds to live in.
To explain the measures that will be bidding those that will be living in such apartments, MINDCAF assembled real estate dealers, architects, surveyors, land registrars, civil engineers and engineers of urban development for two days seminar from September 17 to 18, 2018 in Buea.
Shu-Azieh Cornelius explained that the joint ownership of built estate is a very new concept in Cameroon. That many actors are involved to see that the buildings are constructed.
"The law of 2010 now comes to place. When we sell these structures, what do we give to the owners and what are the procedures to be followed to register these properties. So many people will be living in the property and they need to live in harmony, how do we manage the different people living in these structures among other things are something of the issues we edified the participants with".
South West Regional Delegate for MINDCAF, Enongene Felix Elung pointed out that this innovation came because towns have been expanding vertically and that horizontal expansion is what is needed now. He added that the project permits one building to be constructed with people sharing the cost.
That it is cheaper and will permit all Cameroonians to own living space. South West Governor, Bernard Okalia Bilai, prescribed diligent implementation of what had been learned.
Same category