President Biya Exercises Civic Right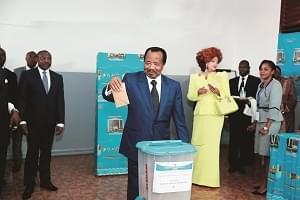 The Head of State and wife voted yesterday October 7, 2018 around midday and saluted the population who turned up massively at Government Bilingual Primary School Bastos.
Curiosity was on the air yesterday October 7, 2018 as Cameroonians chose their President for the next seven years. A major attraction was at Government Bilingual Primary School in the Bastos neighbourhood of Yaounde where the incumbent President, Paul Biya, was to exercise his civic duty alongside his spouse, Chantal Biya. Towards midday when the Presidential couple was scheduled to arrive at the polling station, anxiety was at peak as both pressmen and women and even some voters took up vantage positions to see how Paul and Chantal Biya will vote.
At 12 noon when the Presidential motorcade taxied to a halt at the Bastos polling station and the Presidential couple alighted all beaming with smiles as they waved the population, people could be seen readjusting their standing positions so as not to miss any moment of their stay at the polling station.
Paul and Chantal Biya after shaking hands with administrative officials led by the Governor of the Centre Re gion, Naseri Paul Bea, immediately entered the Ntougou I Polling Station at Government Bilingual Primary School Bastos A under Yaounde I Council Area, Mfoundi Division of the Centre Region.
Welcome by the Chairman of the Polling Station, Andegue Luc-Florent alongside other polling agents, it was now time for the Presidential couple to follow the voting procedure to exercise their respective civic rights. Biya Paul, the first name on the list of 369 voters for the Polling Station and Mme Biya Chantal Pulcherie, the 321st on the list followed the six steps to slot the envelopes containing their choices for President into the transparent ballot box.
After going through the identification procedure, Paul and Chantal Biya collected the nine ballot papers corresponding to the nine contenders in this year's presidential race, and an envelope. They each moved to the polling booth, chose one ballot paper and inserted into the envelope and then discarded the eight others in a plastic disposal bag.
As the rule stipulates, each of them held the envelope to justify they were each carrying a single envelope. In the eyes of curious observers and the huge national and international media, Paul Biya slotted his vote into a transparent ballot box, and then moved forward to affix his signature and finger print on the electoral roll, dipped his finger in indelible ink and moved out.
Chantal Biya did same with cameras beaming on them. In a press declaration after the vote, President Paul Biya saluted the maturity of Cameroonians shown throughout the campaigns and wished it transcends the remaining procedur
Same category