Paid Parking Lots: A Flourishing Business in Douala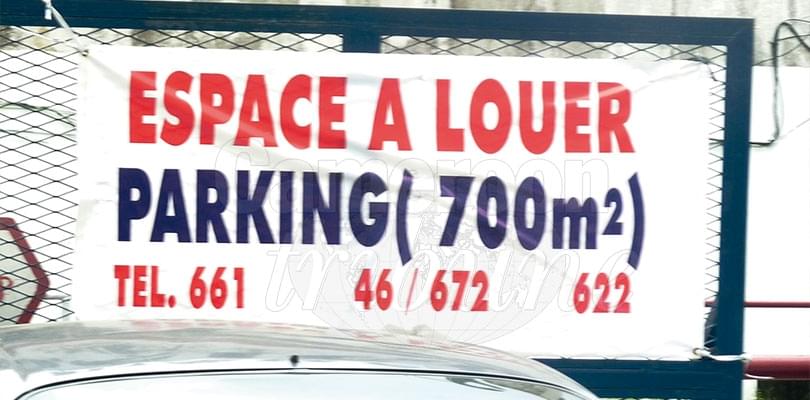 Owing to the acute need of space to park vehicles, individuals make lucrative business by creating paid parking lots.
Quietly and unknown to tax officials, a new business has been fast developing in most urban towns in Cameroon and Douala in particular. It is that of creating private parking lots for owners of automobiles, of course in exchange for a fee. The business is born from the acute need of parking spaces in town partly due to the non-respect of construction norms which require that buildings above three storeys should have a parking lot beneath and also owing to the increase number of automobile owners by the day.
Though the city council has created paid parking lots along some of the major streets in Douala, it is not still sufficient to contain the increasing number of vehicles. This is where individuals step in to fill the vacuum. Those who have undeveloped land around the city, let is out to vehicle owners.
Two kinds of paid private parking exist. Some function during the day and others function at night. Those that function during the day are situated mostly around the administrative and business areas like Bonanjo and Akwa and enable car owners to park their vehicles during working hours. The night parking lots are situated mostly around residential areas to enable car and motorbike owners who don't having parking space in their homes to park and pay a fee for the night. The fare a night cost FCFA200 for motorbikes and FCFA300 for a vehicles.
The owner of the parking takes charge of the security of the automobile and is held responsible in case of theft or damage to the vehicle while in his keeping. The same rule holds for the day time parking lots and the fares are negotiable on daily, weekly or monthly basis. The 'night parkings' which are mostly situated in petrol stations, are mostly used by taxi driver and commercial motorbike riders. Meanwhile, the daytime parking are mostly used by top personnel of administration and business concerns in the city of Douala.
At times there are attached services like washing points as the individual can have his or her car washed while working in the office or the taxi driver have his vehicles washed at night while he is resting. After work or night's rest, the owner, comes to find the car cleaned and then pays for the service. Besides the conventional parkings, security guards also do shady business with the parking reserved for certain administrations as they allow people who are not of the administration to park their vehicles in exchange for a tip. This goes on side by side the conventional business of paid parking lots managed by agents of the Douala city council.
Same category