Green School Initiative :Campaign Launched In 30 Secondary Schools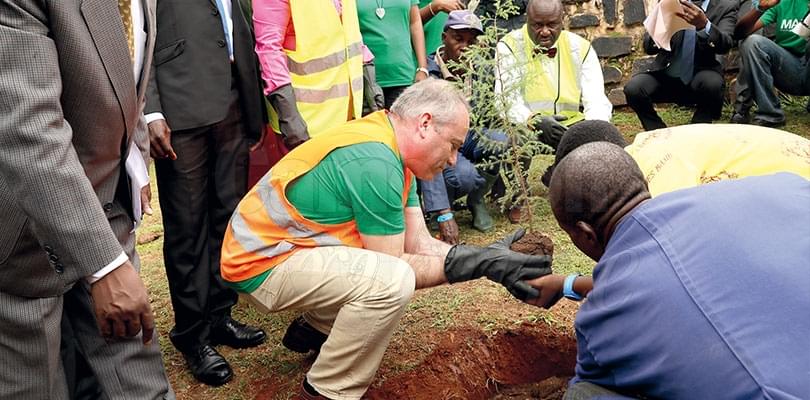 The event took place in the presence of the Israeli Ambassador to Cameroon and the Minister of Secondary Education on October 11, 2018 in Yaounde
The campaign "Green School Initiative" designed to educate young students about the importance of combating desertification and climate change, while promoting sustainable development and greater environmental awareness has been launched in 30 schools in Yaounde by the Minister of Secondary Education, Nalova Lyonga and the Israeli Ambassador to Cameroon, Ran Gidor. During the launching ceremony yesterday October 11, 2018 at Lycée Leclerc in Yaounde, dignitaries planted some five trees to kick-start the planting of 300 trees in 30 secondary schools in Yaounde.
The slogan of the Ministry of Secondary Education, "clean school" falls in line with the green school initiative which aims at making school environment liveable. She prays the initiative is expanded to other schools in the country. Ambassador Ran Gidor said Cameroon is fortunate to have a lot of rain, water and fertile soil, whereas in Israel, they are not very fortunate. 60 per cent of Israel is desert and the only country in the world where the desert is shrinking despite global warming.
Knowing the importance of trees, which are essentials for human survival, Ambassador Gidor said they are out to share their experience with Cameroon on how to preserve nature. "Green School Initiative" is organised by Shalom Club Cameroon (an alumni club of Cameroonians graduates of MASHAV seminars) jointly with the Israeli Embassy and MASHAV (Israel's Foreign Aid and Development Agency). The initiative is within the 2018 plan of action of the Shalom Club Cameroon.
Students will learn how to develop and maintain green spaces in their schools as well as produce manure which emanates from their living environment. The preliminary training of teaching staff already took place last September 29, with the participation of 50 persons including student representatives of environmental clubs, national inspectors of secondary education in charge of school life, primary school teachers and some members of Shalom Club Cameroon.
The first period of the project which began yesterday October 11, 2018 will comprise of developing green spaces in five primary and secondary schools respectively.
The second period of execution of activity has been planned from March to April 2019. After the planting of trees, the maintenance of the green spaces will be carried out by the "Club Environment" of the selected schools amongst which are Government Primary School Etoa, Nfandena, Ecole Privée les Pharaons, Government High School Essos, EtougEbe and Mballa II.
Same category