Climate Change, Deforestation: Stakeholders Introduce New Strategies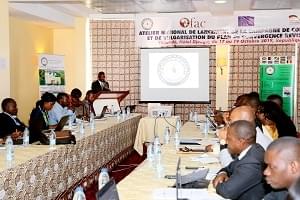 A two-day workshop to that effect was opened in Yaounde on October 17, 2018.
A second ten years convergence plan initiated by the Commission for Central African Forest (COMIFAC) that began in 2015 to end in 2025 was launched during a workshop organized in Yaounde. The two-day workshop running from October 17 to 18 was opened by the Director of Forestry at the Ministry of Forestry and Wildlife Bruno Mfou'ou Mfou'ou on behalf of the Minister.
Read also :
Transferts de fonds à l'international : c'est toujours aussi compliqué
The workshop that revises the first convergence plan that ran from 2005 to 2015, is geared towards vulgarizing and presenting innovations brought up to cover up the flaws of the first plan, promoting campaigns for the collection of data indicators and presenting a family of revised indicators through the production of annual statistics.
Read also :
« Des restrictions liées à la circulation des devises »
The Director of Forestry while launching the workshop called on all members and national coordinators of COMIFAC in Gabon and the Central African Republic, representatives of sectorial ministries, technical and financial partners and civil society organisations participating in the conference to put in all initiatives geared towards coming up with appropriate results.
Read also :
Marché financier : de nouveaux intermédiaires en Afrique centrale
He said that a proper understanding of the plan will aid in the protection of forestry and wildlife in the whole of Central Africa. He went further to explain that the Convergence Plan was revised with the aim of including new aspects like climate change and deforestation.
Read also :
Accompagnement des Pme : l'Onudi répond présente
The coordinator of COMIFAC in the same vein called on extra efforts to be put in improving methods of handling deforestation, climate change and the protection of wildlife through the convergence plan. She emphasized that if the message is wildly spread and the objectives attained, Cameroon might come first in Africa when it comes to managing the aforementioned problems.
Read also :
Agriculture et Développement rural : trois nouveaux responsables en poste
The Executive Secretary of COMIFAC Raymond Ndomba threw more light on the harmonisation of data and explained that each country should have a particular way of collecting and analyzing data so as to get specific and accurate results. Participants are hoping that this time the lapses of the first convergence plan will be covered.
Read also :
Projets à financements conjoints : comprendre les fonds de contrepartie
Same category