MINEFOP Prepares National Exams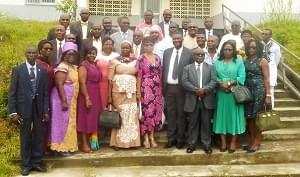 This is within the framework of a seminar which took place in Douala on October 17, 2018.
In order to harmonise the procedure for the organisation of examinations into vocational training centres, the Ministry of Employment and Vocational Training (MINEFOP) on October 17 and 18 at the 'Centre Professionel d'Excellence' in Douala, organised a seminar on preparing for the 2018 national examinations. The seminar taking place on the theme, "quality evaluation of certificates for better professional insertion of graduates of vocational training centres", brought together officials in charge of training from the decentralised services of the ministry, heads of public and private vocational training centres.
According to the director of guidance and vocational training, Mbenoun Sophie, the seminar falls within the framework of reforms initiated upon the creation of the ministry since 2004 which culminated in the law on July 11, 2018 governing the organisation of vocational training in Cameroon.
She said the objective is to bring all the actors to lay the groundwork for vocational training from the organisation of examinations to certification passing through the organisation of examination centres, exams secretariat, financial management, keeping financial records and ethical values.
Opening the seminar the Inspector General of Training, Tabi Akono Francois, called upon the participants to be attentive saying vocational training in Cameroon has taken a decisive turn with the promulgation of the law of July 2018. Vocational training is at the centre of the new education vision and key to the emergence of Cameroon, he said.
Work during the seminar was conducted in workshops and plenary presentations and exchanges on the dynamics of the reforms, presentation and comprehension of the structure of evaluation, ethics and professional deontology, the process of collecting exams fees, programming of an exam session and general information on the certification procedure
Same category