Show: Douala Discovers Eson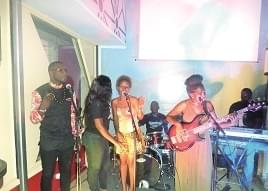 She carried the public during her maiden musical performance at the French institute last Thursday
Esson by her birth name Edvige Mpah is a budding Cameroonian artiste beaming with talents. She carried the public during her first musical performance on Thursday October 18 at the French Cultural Centre in Douala. Though young, Esson is an accomplished artiste as she is a song writer, singer and guitarist.
Her soul searching music born out of mixture of afro pop and jazz reminds one of great genres like Henri Dikongue, Sally Nyollo or better still Charlotte Dipanda. Esson says she sings about filial love, religion or her personal love experiences and sings in Duala, English, French, Ewondo and Bameleke languages.
Though she is planning to release her first album by December this year, she already has a long repertory of songs. Her hit songs include "Amuse toi quant tu peut," "Merci maman" and "Kombe," meaning 'Jesus loves you' in bamileke language. Owing to years of experience singing in 'carbarets', Esson commands respect on stage and her charming voice coupled with the constant smile keeps the spectators to wish the show should go on without end as she is acclaimed after every song and urged to keep on singing.
Having been exposed to musical instruments from tender age as she comes from a family of musicians, Esson can play the piano, solo guitar, flute but her preference is the bass guitar when singing on stage. She even teaches music to others. She has participated in many musical festivals notably, Fomaric, Promote, Mtn, Coca-cola and Mutzig Star.
Same category