CAR: Over 300 Refugees Voluntarily Return Home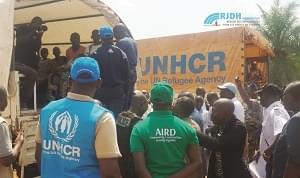 Some 2,288 of the 3,000 refugees who asked to go back home have so far done so.
It was a happy reunion for about 320 Central African Republic, CAR refugees who fled fighting back home in 2016 to Congo Brazzaville when they were returned home over the weekend with the assistance of the United Nations High Commission for Refugees, UNHCR. Radio France International, RFI reported that the refugees voluntarily went back home for various reasons, with some saying they felt their country was now safer and more peaceful.
The refugees in the Congolese locality of Bétou in the northern part of the country, crossed the frontier in a convoy of six UN-marked vehicles before arriving their destination in CAR's Moungoumba Council. Initially, there were 32,000 CAR refugees who fled ethnic fighting to Congo Brazzaville between 2015 and 2016. However, most of them are still reluctant to return home, arguing that peace and security were not yet guaranteed.
Out of the 3,000 Central African refugees in Bétou who requested to return home, 2,288 have so far done so. UN officials said more repatriations will be organised in the coming months after the seventh exercise on October 19, 2018. Jean-Cyriaque Grahouan, UNHCR Protection Officer in Bangui, the Central African Republic capital, said financial assistance will be offered to the returning refugees to enable them settle down, though he did not mention the amount.
The Central African Republic has been in turmoil since the Séléka rebel coalition overthrew President François Bozizé in 2013. The aftermath saw widespread violence as armed militia fought each other and took revenge on the population. The March 2016 election of President Faustin-Archange Touadéra brought an initial lull, but was followed by more fighting in late 2016 and early 2017 between armed groups, including ex-Séléka factions and anti-Balaka militias – both controlling vast areas of the country. Lasting peace is still some way off as neither the new government nor the large UN force and other peacekeepers have so far not been able to force all armed groups to negotiate and disarm.
Same category