208 Women Africa Cup of Nations: Cameroon's Adversaries Known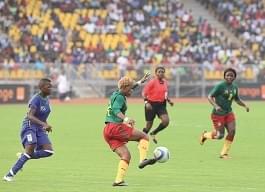 The Lionesses will play in Group A with Algeria, Mali and Ghana.
The Indomitable Lionesses of Cameroon will play in Group A with Algeria, Mali and hosts, Ghana in the upcoming 11th edition of the Women's Africa Cup of Nations in Ghana next month. This was the outcome of the draw for the 2018 Women's Africa Cup of Nations that took place in Accra, Ghana, on Sunday October 21, 2018. Defending champions, Nigeria, have been drawn in Group B alongside South Africa, Zambia and Kenya.
According to the official fixtures, Cameroon will play their first match in the competition against Mali on November 17, 2018 at the Accra Stadium at 7:30 p.m. Ghana will play the opening match of the tournament against Algeria in the same venue at 4:30 p.m. Reports from Accra say the draw took place in the presence of the President of CAF, Ahmad Ahmad, who arrived in Accra on Saturday, October 20, 2018 for the event.
Meanwhile, the Lionesses have strengthened training in Yaounde ahead of the competition which will take place from November 17 to December 1, 2018. Head coach, Joseph Ndoko and his team are working out wining strategies and also seeking ways of improving their skills in order to avoid any errors in Ghana 2018. The training camp ends on October 31, 2018 and Coach Ndoko is expected to select the 23 players who will fly the colours of Cameroon in Ghana.
The objective of the team is to win the 2018 WAFCON and secure a ticket for the FIFA World Cup in France in 2019. The Indomitable Lionesses are yet to win the continental title. They have finished as runner-up in four editions (1991, 2004, 2014, and 2016). The Super Falcons of Nigeria have won the title ten times. Hosts, Ghana will host the competition for the first time. The hosts have never won the women's continental title but have finished as finalists on three occasions - 1998, 2002 and 2006. The three top teams in the competition will qualify for the World Cup in France in 2019.
Same category