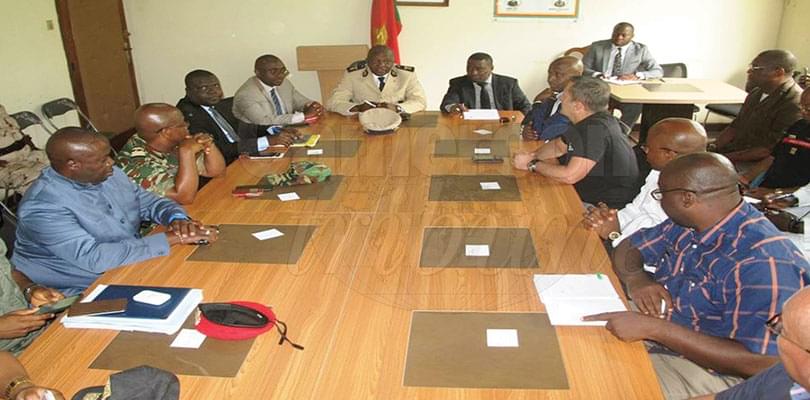 The Djibrilla Hima Hamidou-led security inspection squad visited hotels and sports infrastructure in Buea and Limbe yesterday October 31, 2019.
Major Colonel Djibrilla Hima Hamidou accompanied by Jean Bosco Kazura, Serges Dumortier and Christian Emeruwa, set foot at the South West Governor's office at 10am yesterday, October 31, 2018 where they held a close door fact-finding session co-chaired by Governor Bernard Okalia Bilai.
Read also :
Jeux olympiques : fin de parcours pour Arrey Sophina
In a preliminary statement Governor Bernard Okalia rejoiced that all infrastructures; be it hotels or stadia for training and for games, were ready for high level competitions. To further buttress his points, the Governor reminded that a similar football competition for women was successfully held in Cameroon in 2016 with Buea and Limbe hosting Pool B of the African female football finals.
Read also :
CAN TotalEnergies 2021 : l'aéroport de Yaoundé-Nsimalen paré !
Also as a pre-statement, the FIFA-CAF team leader explained that they were in Cameroon to ensure that security concerns over hotels and sports infrastructures were assured before and during the continental football jamboree.
Read also :
Chantal Biya International Cycling Race : Organisers Unveil Itinerary
An expert of Youth and Sports later explained to this reporter that such security fears are usually centre on the equipment of infrastructure, hotels and stadia, with security cameras, provision of escape valves in case of fire break out, lighting systems for clear vision, comfortable entrance and outing access, proper identification of actors, observers and officials.
Read also :
Coupes africaines interclubs : la Fecafoot devra trancher
For the visiting experts, the safety of persons during the nations' cup in Cameroon next year is primordial. While in Buea, the inspection team made rounds at the state-owned Mountain Hotel which was improved to 132 rooms in 2014 to pinpoint safety measures.
Read also :
Tokyo Olympic Games : Mengue Ayissi Out
They equally inspected another state-owned Parliamentarian Flats in Buea. The team also went to the Molyko Omnisports stadium in Buea which will be used as training ground for teams that shall be based in Buea.
Read also :
Tokyo Olympic Games : Wilfried Seyi Eliminated
In Limbe, the FIFA-CAF experts visited the Centenary and Middle Farms training grounds and concentrated the rest of their time at the Limbe Omnisports Stadium that will host matches for the Limbe pool. The delegation was accompanied all through by the Governor and security officials of the South West Region.
Read also :
Cricket Cup of Cameroon : Sixers, Emergence Cricket Club Winners
Same category