Douala: CAF Security Experts Wrap up Visit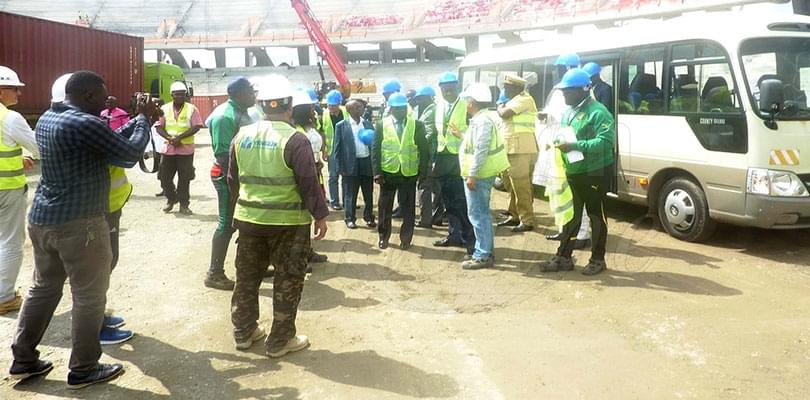 The last lap of their visit took them to AFCON project sites and host hotels in Douala yesterday.
The security experts from the Confederation of African Football (CAF) ended up their inspection visit to Cameroon yesterday with a visit to AFCON project sites and host hotels in the city of Douala.
At each stop, the team led by Colonel Major Djibrilla Hima Hamidou inspected the security measures put in place within the sports infrastructures and hotels to host the competition and offered advice where necessary.
As concerns the stadiums, the security experts looked for aspects such as the video surveillance system comprising the control room and installation of security cameras. They also looked at the entrances and exits to make sure people can be evacuated from the stadium within a very short period of time in case of an incident. They also checked the backup system for electricity and water as well as ensuring the identification of spectators through seat numbers and non-falsification of entry tickets.
The project manager for the Japoma stadium disclosed that the stadium can be evacuated within eight minutes though CAF stipulations demand that it should be done within ten minutes at most as there are 43 exits besides the three main entrances. There are also two big generators to supply power in case of electricity failure.
They also looked into the security of the dressing rooms, toilet facilities to contain the sixty-thousand man crowd capacity of the stadium. The Reunification stadium too has been modified with three new entrances created to ensure easy evacuation and access ways created for spectators.
As concerns hotels, the aspects under scrutiny included video surveillance, the availability of fire extinguishers, emergency exits and access to the rooms which is done with electronic cards to avoid people having access to the rooms. The visit took the CAF security experts to other stadiums like the Bonamoussadi and Mbappe Leppe and to hotels like Akwa Palace, Residence La Falaise, Pullman, and Sawa.
It is worthy to note that the visit took place within a very tight security as journalists were not granted access to the various working sessions the experts had with the project managers, or visit insides hotels. The four-man delegation also comprised Nigerian-born, Emeruwa Christian who was chief of security in the Russia 2018 World Cup, Serges Dumortier from France and General Jean Bosco Kazura from Rwanda.
Though the visit focused on the security aspects, one could witness that construction work was far advanced at the Japoma stadium as the roofing is almost completed and chairs being affixed on the tribunes. Same progress was witnessed at the Reunification Stadium in Bepanda.
The green turfs on the Bonamoussadi and Mbappe Leppe training stadiums are ready and the grass being cleared and watered. However, the progress of work will be assessed by another CAF inspection mission expected in the country in a fortnight.
Same category