Equatorial Guinea: 42 Party Members Expelled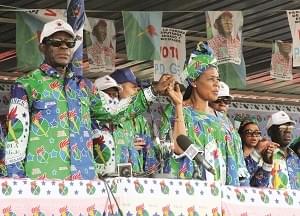 Most of the 42 expelled are former senior members of the government
The Democratic Party of Equatorial Guinea, PDGE, over the weekend announced the dismissal of 42 members over their role in the December 24, 2017 coup attempt, Radio France International RFI reported. Amongst them are several former senior government officials like the ex-Director of Presidential Security, Julian Ondo Nkumu, former Ambassador to Chad, Enrique Nsue Anguesomo, and two other judges. Ondo Nkumu and Nsue Anguesomo were picked up some months back.
Other sus pected coup plotters are Martin Obiang Ondo, son of Interior Minister, Clemente Engonga Nguema Onguene. Aged 36, Martin Obiang Ondo was formerly President of Bata Provincial Court. At the time of the announcement of the foiled coup, Security Minister, Nicolas Obama Nchama said mercenaries "were contacted by certain members of Equatorial Guinea's radical opposition parties with the backing of certain foreign powers." The 42 suspects were accused of "involvement in an attempt to assassinate the President and destabilise Equatorial Guinea," said the statement released on No vember 2, 2018 after PDGE's disciplinary board meeting.
Authorities in Equatorial Guinea on January 3, 2018 said they foiled a coup plot by a group of terrorists and mercenaries who had planned to attack the Head of State on Christmas Eve 2017. Last March, the opposition Convergence for Social Democracy, CPDS party said masterminds of the botched coup d'état were ruling PDGE party officials.
About 30 mercenaries from Chad, the Central African Republic and Sudan were detained in Cameroon last time. Meanwhile, the trial of the suspects could begin in February 2019, sources in the capital, Malabo, said.
With a population of 1.2 million people, Equatorial Guinea is one of Sub-Sahara's biggest oil producers. President Teodoro Obiang Nguema Mba sogo took power on August 3, 1979. In 2004, mercenaries thought to have been backed by British financiers tried unsuccessfully to oust him.
Same category