Conviviality At State House Dinner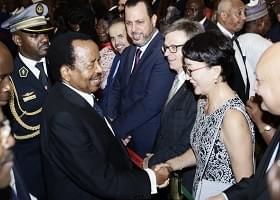 A sumptuous common meal last evening crowned a colourful oath-taking by President Paul Biya, as he begins another seven-year term at the helm of Cameroon.
Conviviality was at its peak last evening at the State House as Cameroon's President, Paul Biya, and wife, Chantal Biya, shared a common meal with their compatriots and friends of Cameroon. The reception offered by the Head of State and his spouse crowned the long day which began at the National Assembly with the swearing-in of the Presidentelect, Paul Biya.
It was indeed an ideal moment for Mr Biya and wife, Chantal, to commune with the public and share pleasantries with them; ending what had begun well. Before the gate of Unity Palace could be opened at 5 pm, according to the official programme, the sea of people who received invitations for the historic reception were already lined up outside waiting to be ushered in. The State Protocol meticulously received all the guests and got them installed at the Banquet Hall of Unity Palace and courtyard for the feast to begin.
Here, Cameroon's diversity in both dressing and food could be perceived. Although attires differed, the oneness of the country could be seen in the manner in which the guests discussed among themselves and enjoyed what the Presidential couple had served them in the banquet. The high moment of the evening came at 7:30 pm when the Presidential couple arrived at the Banquet Hall. There was anxiety as each guest wanted to catch a glimpse of the Head of State and wife and possibly seek their notice.
Smiles and handshakes characterised the first couple's close to one hour communion with their fellow compatriots and friends of the nation. The relaxed President Paul Biya took time off to discuss with as many dignitaries as possible and at each stopover, the Presidential security and protocol stretched full length to contain the huge crowds that each wanted to have a handshake with Paul and Chantal Biya. The joy on both faces was visible. Understandably so as the just-ended election held under a particular context.
It was therefore time to feast. Celebrating the triumph of maturity over exuberance. And the sometimes in-depth discussions the Head of State had with some dignitaries during the banquet translated deep reflection on making the next seven years better than the previous ones and striving together to give the country a palatable taste to most, if not all, citizens.
Same category