Lycee Koumassi: New Multi Media Centre Inaugurated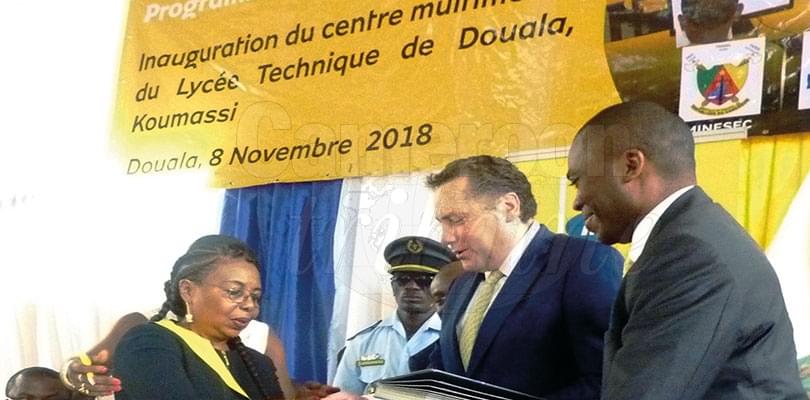 The centre offered by MTN Foundation was inaugurated by MINESEC on November 8, 2018
The Minister of Secondary Education, Pauline Nalova Lyonga on Thursday November 8th inaugurated a new multimedia centre for the Government Technical High School KoumassiDouala offered by the MTN Foundation. Speaking during the ceremony, the Minister of Secondary Education said the provision of the multi-media centre falls in line with government's policy of providing ICT to schools so as to foster technological development.
She thanked the management of MTN for the gesture but like the proverbial Oliver Twist called on other corporate bodies to emulate the example as government intends to expand access to numeric technology for students. She called on the students and staff alike to make good use of the centre to ensure its use by future students of the institution.
The General Manager of MTN Cameroon, Hendrik Kasteel said the provision of the multi-media centre falls within the "Digital school' programme of the company. He said in setting up the multi media centre, the company took into consideration the curriculum of technical education. He disclosed that education is a priority in the company's social responsibility actions as it consumes 60 per cent of the budget saying "knowledge is the strongest tool"
The multi media centre comprises 30 state-of-the-art computers with free internet connection till the end of the academic year, 30 computer stands or benches as well as a video projector.
The Lycée Technique Koumassi multi media centre takes the count to fifteen, the number of multi media centres provided to schools by the mobile telephone company within the year making a total of 65 centres. The ceremony also saw the Ministry of Secondary Education renew its contract with MTN which will see the company set up ten more multi media centres and five science laboratories for schools designed by the ministry over the next two years.
The ex-students association of Lycée Technique Koumassi, also offered a gift of 100 benches and promised to provide 100 more benches next year.
Same category