2017 Financial Year: Settlement Bill Deposited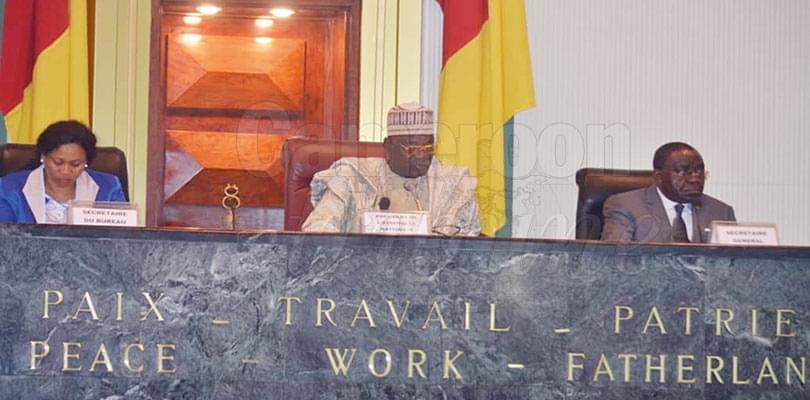 Prepared in pursuant to Sections 20, 21 and 22 of Law No. 2018/12 of 11 July 2018, it seeks to establish the final amount of the revenue and expenditure executed under the State budget
The Settlement bill of the Republic of Cameroon for the 2017 financial year has been tabled for consideration before Members of Parliament at the National Assembly. It was deposited on Friday November 9, 2018, during a plenary sitting chaired by the Speaker of the National Assembly, Hon. Cavaye Yeguie Djibril.
Bill N° 1040/PJL/AN, prepared in accordance to Sections 20, 21 and 22 of Law No. 2018/12 of 11 July 2018 of the financial regime of the State, seeks to establish the final amount of the revenue and expenditure executed under the State budget for 2017 fiscal year. Government's explanatory statement indicates that the State budget for 2017 financial year adopted in revenue and expenditure stood at FCFA 4,373,800,000,000.
Total revenue stood at FCFA 4,529,703,498,754 showing an execution rate of 103.56 per cent in relation to projections (FCFA 4,373,800,000, 000). This performance is explained by a high tax revenue mobilisation rate of 99.63 per cent, as well as international cooperation loan overruns (113.62 per cent) resulting from budget support provided by partners under the Economic and Financial Arrangement signed in 2017 with the International Monetary Fund.
Total revenue was gotten through generated revenue, loans and grants and other revenue. Expenditure stood at FCFA 4,229,422,648,056, recording an execution rate of 96.70 per cent in relation to initial allocations of FCFA 4,373,800,000, 000. Expenditure was spent on executing the recurrent budget, investment budget and public debt servicing.
The bill equally highlights the Audit Bench interim reports on the 2017 Settlement bill for the 2017 financial year, general account of the State as at De cember 31, 2017, status of government bonds issued, discrepancies between projections and Revenue by the nature of revenue, and changes in appropriations, authorisations, payments and outstanding payments.