FEICOM: Public Funds Management Activities Launched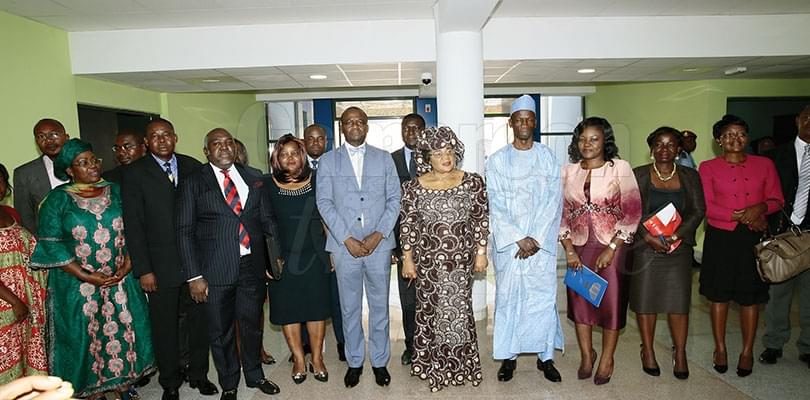 The activities launched on November 12, 2018 is the start of the implementation of the technical assistance protocol signed with CONSUPE in September 2018.
For three years, the Supreme State Audit Office (CONSUPE) will help build the capacities of the officials and staff of the Special Council Support Fund for Mutual Assistance (FEICOM) following the technical assistance protocol the two institutions signed on September 17, 2018.
The concrete implementation of the protocol agreement started on November 12, 2018 with the official launching of activities to build the capacities of FEICOM staff in Yaounde.
Speaking during the ceremony at the FEICOM headquarters, the Minister Delegate at the Presidency in charge of the Supreme State Audit Office, Mbah Acha Rose Fomundam recalled the key clauses of the technical assistance protocol.
They included the drawing up of auditing tools such as the guide for internal auditing of FEICOM and manual for quality control, revision or updating of existing tools such as the Internal Audit Charter , Code of Deontology and Risks Map, organization of training workshops for the benefit of FEICOM staff in general and specifically for personal of the Internal Audit Division, training of staff of the Internal Audit Division in pilot missions and finally the organization of thematic conferences on issues linked to the management of public finances.
She rejoiced that the Ad hoc Committee chaired by the FEICOM General Manager, Philippe Camille Akoa to draw up the auditing tools was already in place. The Minister also expressed happiness at the effective mobilization of necessary finances to carry out the programme.
Talking about the importance of the training, Minister Mbah Acha Rose said, "We want to come and train stakeholders of FEICOM. As you realize, CONSUPE has another domain which is the prevention of the misappropriation of public funds. We train the internal auditors of FEICOM as the institution deals with public funds and its staff should better know how to manage the funds."
The General Manager of FEICOM, Philippe Camille Akoa said the Ad hoc committee was starting its work to draw up the agreed auditing tools. He assured that the materials for work to start was ready.
As to the importance of the training, he said, it would make FEICOM be more efficient in the management of public funds put at its disposal to accelerate the process of decentralization and boost local development.
The effective implementation of the technical assistance protocol comes on the heels of the reorga nization of FEICOM by the President of the Republic, Paul Biya in decree N°. 2018/635 of 31 October 2018 aligning the institution to the laws governing public and semi-public institutions and enabling it play the assigned role in accelerating the ongoing decentralisation process in Cameroon.