Hainan, China's Ecological Tourist Haven, Centre of Medicinal Plants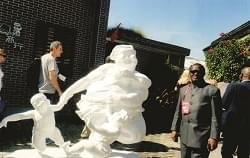 Hainan hosted the 2018 edition of the forum on Media Cooperation on the Belt and Road Initiative .
Located at the southernmost tip of China, facing Malaysia, Brunei and Singapore, Hainan is the largest special economic zone in China and the country's only provincial tourism island. Most importantly, it is also the strategic pilot for the Belt and Road Initiative launched in 2013. Hainan is also the only provincial tourism island in the approval of the state council.
Hainan in October 2000 began to implement the visa-free entry since then. Besides tourism that makes Hainan a special province in China, the island is also a pioneer in carrying out a pilot reform of integrated planning, besides being a pilot for the Belt and Road Initiative.
During the visits to the striking centers of the city of this beautiful province of China, participants at the fifth edition of the Belt and Road Initiative were able to see and live some of the pleasures that attract tourists, ecologists and industrialists to the island.
There are reportedly 6036 species of wild and cultivated vascular plants belonging to 243 families of woody plants. These include more than 40 species of South China medicinal plants. On Wednesday 31st October 2018, participants at BRI Forum took off time to visit some of these striking touristic spots of Painan including secondary school with an enrolment of 3000 students.
300 tutors at the school participants were thrilled when they witnessed acrobatic stunts by students, choral music, and performances which proved that Chinese professionalism begins even at primary and secondary levels.
Same category